Life Hacks
12 Things Every Girl Should Have In Her Car
By
|
In this fast paced world, you want to be as prepared for anything as you can be. There are many women who are always on the move, exploring new horizons everywhere. This is why, there are many things that they require to carry along with them. However, they cannot carry everything along with them which is why they need to carry these things in their cars, ever prepared for the disaster to come.
#1. Get Your Face-Paint Kit Ready!
Did I say keep the entire cosmetic shop with you in the car? No way, all you need to keep is a small kit containing your favorite concealer, blush, mascara, and lipstick. These are the essentials that you rely on. You never know when a pimple pops out of your skin and you need to have a brush on the ready to bring out the beauty on your face.
#2. Don't Let Your Red Stain Restrain Your Inner Strength!
The second most uncertain thing after death is a period, that knocks on your door without any invitation. You cannot always hope for a pharmacy to be near you when your menstrual cycle kicks in. Instead of facing the embarrassment of a red stain, you should always have a pack of tampons or sanitary pads in your car so that you have something to reach for at a moment of emergency.
#3. Your Mobile's Life Savior!
Perhaps you are getting out of your office and are headed towards a date or a late night party. You must have been using your phone throughout the day in order to answer some emails or reply to a few texts. Even though the cell phones that have been launched in recent times have huge batteries, you cannot expect your phone to survive more than a full day. This is why, you should have a mobile charger in your car so that you can charge your phone while in transit.
#4. Clean Undies!
After all, you don't want to cancel your overnight plan with the girls just because you do not have a pair of clean underwear for the next day. You should always have a backup set of underwear in your car so that even if you are on a date, you have a change of underclothes to help you get through the next day without having to go back home and change.
#5. Extra Cash
Ever left your wallet at home when you have been in a rush and not realized it until you actually need the money? Does a line form behind you when you are rummaging in your handbag looking for your wallet? Spare yourself the embarrassment and the nagging of the people and always keep a few extra dollars in your car so that you can make the purchases that you want.
#6. First Aid Kit
Often times you get paper cuts or get a splinter of wood stuck in your hand. Or you could be involved in an accident at a time when you least expect it. You should always have a first aid kit ready in your car so that you are able to administer the most integral part of survival.
#7. Spare Keys
Have you ever misplaced your keys and spent hours looking for them, missing out on going for the drive that you wanted to? You should keep a spare set of keys in your car so that you can just pop the lock and go where you want. You should also have a spare set of your home keys so that you can get inside your house when you want to.
#8. Hand Sanitizer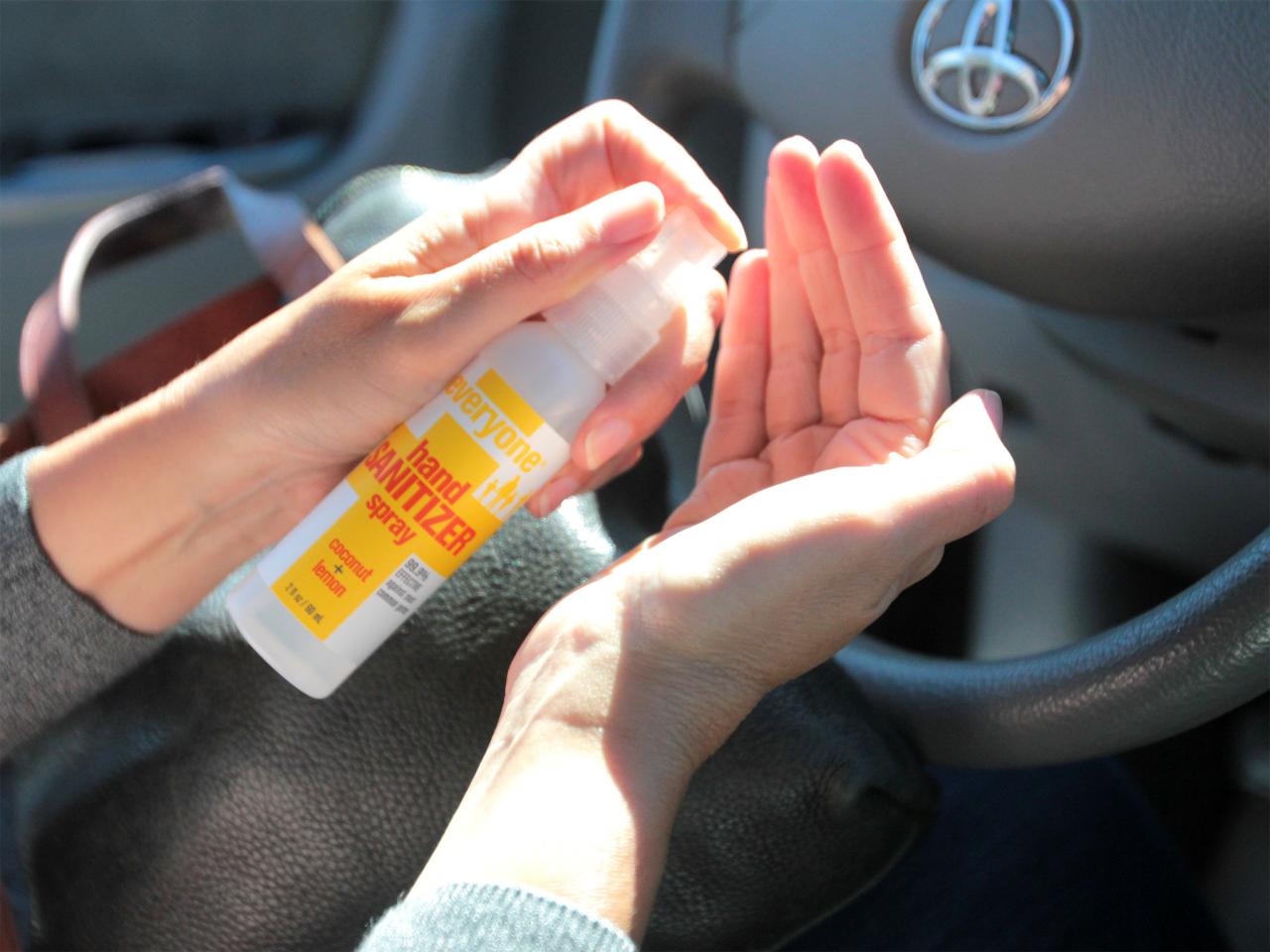 Microbes are all around us and they can cause a wide variety of diseases. You do not want to be eating with the same hands that you had on the steering wheel of your car. You should always have a bottle of hand sanitizer on your person or in your car so that you can begin your day with a clean set of hands.
#9. Deodorant
After a tiring day, you could be stuck with a bad body odor. You do not want to meet people with that odor unless you want to see a bunch of wrinkled noses and disgusted expressions. This is precisely the reason why you should always carry a small deodorant in your car for emergencies when your body begins to stink.
#10. Jack And Lug Wrench
In the era of an independent woman, you should always be prepared for what life throws at you. You could run over some nails and get a flat tire and you do not want to be stranded on the side of the road. You should be geared with the knowledge of changing a tire and a tire changing kit to help you.
#11. A Spare Pair Of Shades
Adding a pair of goggles into that kit of yours will turn out to be a blessing on sunny days. You can look at the sun in the eye and remain confident and daring, not to mention adding a little bit of style. Also ladies, the shades will help you look at all the men you want without the risk of them finding out about your glare.
#12. Floss And Mouthwash
How would you feel when one of your friends tells you about the food stuck between your teeth? It feels like your entire lunch has been ruined. Feeling embarrassed? Don't fear! Floss and mouthwash can save your lunch and your respect, only if you'll make some efforts to keep those products in your car. Stay alert! Keep Smiling!