news
Activists mourn the loss of Vine app they say shined a spotlight on Ferguson
By
|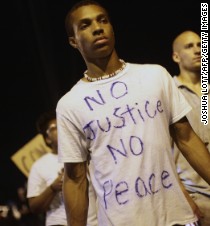 (CNN)Antonio French arrived at the scene two years ago, soon after Michael Brown, an unarmed black teenager, had been shot in Ferguson, Missouri. French stood in the crowd behind the barricade of police preventing people from getting closer to Brown, who lay dead in the street.
French, a north St. Louis City alderman, started tweeting what he saw. He tried to upload videos to his YouTube account but that took too long.
French said the Vines were easily shared on Twitter. Over the past two years, his Vines have been viewed more than 98 million times.
On the recent anniversary of Brown's death in August, French posted a 48-minute montage, called #FERGUSON, of mostly Vines he shot in August 2014. They serve as a documentary of sorts of the aftermath in Ferguson.
French posted the montage again on Thursday.
French, 39, said he had been to many crime scenes but he was struck by the sight of police officers from different municipalities "standing in a line across the street preventing people from going down to see what was happening," on the day Brown was killed.
"I wasn't there for a more than a few minutes before they brought out the big SWAT team vehicles, what later become known as the tanks," he said.
He added: "I can tell you that story … but until you see the video and until you see the photos, a lot of people in the world and in St. Louis wouldn't have believed it."
Vine also captured protests in communities like Baton Rouge, where officers fatally shot Alton Sterling outside a convenience store after authorities said he reached for a gun.
On Twitter, many mourned the loss of Vine.
Black Lives Matter activist DeRay Mckesson tweeted "I'll always love Vine," because it "was all we really had" during the protests in the Fall of 2014 .
Brown's death in the mostly-black suburb
, with a white mayor and a nearly all-white police department led then by a white chief, sparked protests by activists who called for reform in the criminal justice system, including many who were part of or supported the Black Lives Matter movement.
Protestors widely criticized police who drove military equipment into Ferguson's streets and pointed guns at them during the initial protests of Brown's death.