entertainment
After Portraying A Victim Of Abuse, Brie Larson Hands Casey Affleck An Oscar
By
|
At last years Academy Awards, Brie Larson took home the Best Actress award for her performance in Room. The film by Lenny Abrahamson told the story of a woman called Ma, who we eventually learn had been imprisoned in a small shed years before by a man called Old Nick. Although Nick is only briefly seen, his presence is known by the abuse, sexual and physical, he inflicts on Ma and her young son, Jack.
The actress dove into the role, shutting herself away for a month and meeting with psychologists to understand the trauma of her character. She showed great empathy as shehugged each sexual assault survivor after Lady Gagas awareness anthem Till It Happens to You as they departed the stage at last years ceremony.
During Sunday nights Oscars, Larson took the stage again to announce 2017s Best Actor winner. The honoree? Casey Affleck for his performance in Manchester by the Sea. The thing is, Affleck has been surrounded by controversy after 2010 sexual harassment allegations against him leapt back into headlines last fall.
The announcement made for one uncomfortable picture onstage. Although unlike the time she presentedAffleck a Golden Globe in January, Larson chose to give the actor a quick hug as she handed over the gold statue.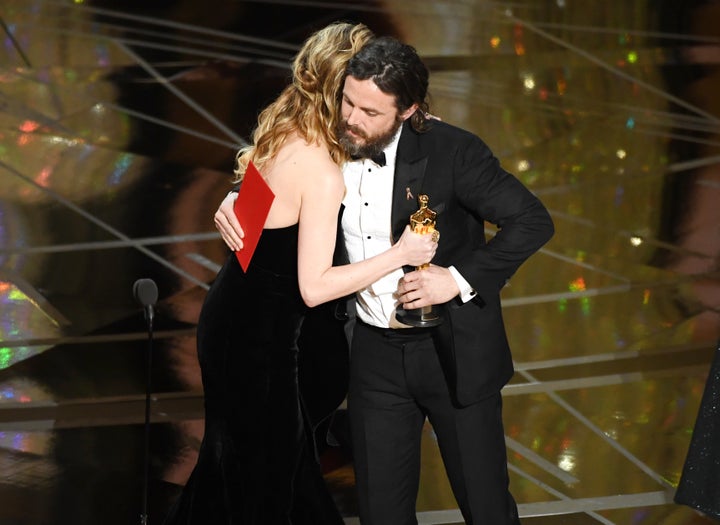 Yes, Affleck took home an Oscar in spite of the allegations. (Sexual abuse allegations have squashed Oscar hopefuls in the past; The Birth of a Nation was pushed aside for its directors controversy.) During the 2009 production of another film, Affleckallegedly made repeated sexual comments and unwanted sexual advancestoward two women, a producer hed worked with for 10 years and the films director of photography. They included the accusation that Affleck crawled into one womans bed as she slept.
The cases were settled out of court, and this awards season Affleck scored the BAFTA, Golden Globe, Critics Choice, Gotham and National Board of Review awards for the role as Hollywood seemed all too happy to overlook Ben Afflecks brothers transgressions.
Then,at Hollywoods most coveted event, an audience of millions watched a woman who made a wholehearted effort to become familiar with the experience of sexual abuse award a man whos put all his effort into denying and brushing away accusations of sexual harassment.
Its true that the allegations against Affleck are far from the scarring experience with which Larson became familiar. But still, although its customary for the years previous Best Actress winner to award the new Best Actor, the Academy chose to pair the two of them onstage instead of making an exception. In doing so, it sent a disturbing message.
In Hollywood, it seems, sexual harassment is not a serious matter.
Read more: http://www.huffingtonpost.com/