news
Argentina sees migration ban and border wall proposals in immigration row
By
|
President Mauricio Macri triggers backlash from Bolivia after banning entry for foreign citizens with criminal convictions as senator proposes border wall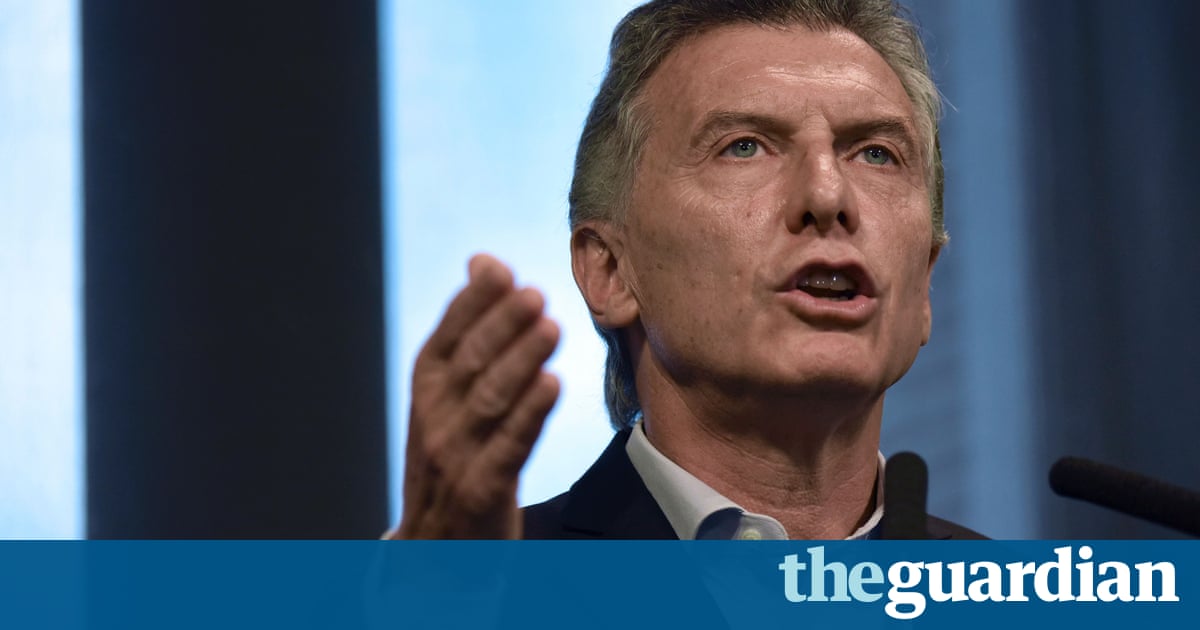 Amid a racially charged national debate on immigration, a real estate tycoon-turned-president signs an executive order to stop foreign migrants entering his country.
There are proposals to expel foreign residents with criminal records and even talk of building a border wall, while intemperate language prompts a backlash from a neighbouring country.
But this is not Donald Trumps America and the wall is not intended to exclude Mexicans.
At the other end of the Americas, Argentinas millionaire president Mauricio Macri triggered a diplomatic spat with regional neighbours this week after he signed a controversial order to rein in migration.
Macris centre-right government has said that the immigration order is intended to fight the rising wave of drug-related crime, which it claims is partly due to an influx of migrants from Argentinas northern neighbours.
Peruvian and Paraguayan citizens come here and end up killing each other
for control of the drug trade, said Macris security minister Patricia Bullrich this week. A lot of Paraguayans, Bolivians and Peruvians get involved as either capitalists or mules, as drivers or as part of the drug trafficking chain.
The ministers words provoked a swift and angry reaction from Bolivia. We
have to reject this kind of stigmatization against our compatriots that
coincides with Trumps xenophobic attitude, responded Bolivian government
minister Carlos Romero.
Bolivias indigenous president Evo Morales also protested the move, writing on Twitter: We cant be following the example of the north and its policies, building walls to divide us.
Macri is intent on copying Trumps agenda, said former legislator and
human rights lawyer Myriam Bregman of the Socialist Workers party. Theyre
trying to associate immigration with crime.
While they persecute poor people in the slums because of the colour of
their face or their nationality, major crime involving drug trafficking
continues to be run by government official and corrupt police, she added.
Immigration from Argentinas northern neighbours where the vast majority of the population is either mestizo or indigenous has always been a source of racial tension in a country where around 79% of the population is descended from European immigrants.
As in the US, migrants in Argentina tend to work in construction or other low-paying jobs; activists say that they often take jobs that Argentinians are unwilling to take.
This did not stop one Argentinian congressman from proposing a wall along the border with Bolivia to block the flow of migrants.
We have to build a wall, said legislator Alfredo Olmedo of the northern
province of Salta, which borders with Bolivia. I agree 100% with Trump.
Macris new immigration order, which was made public on Monday, prohibits the entry into Argentina of foreign citizens with criminal convictions and speeds up the deportation of foreigners accused of breaking the law, even if they havent been convicted for some cases.
Unlike Trump, however, Macris executive order is not country-specific and
only affects people with criminal records.
Bolivias foreign ministry quickly retaliated with a statement rejecting unfounded affirmations that do not contribute to the fight against discrimination and xenophobia in our countries.
One Bolivian legislator lashed out personally at Argentinas first lady, Juliana Awada, who owns a prominent clothing firm. In the past, press reports have claimed that Awada employed undocumented Bolivian workers in her apparel workshops a charge she denies.
What will Macris wife do without Bolivians in her workshops? asked the president of the senate, Jos Alberto Gonzles. Before thinking of walls, think of your economy.
Read more: http://www.theguardian.com/us