news
At least 23 killed in Italy train collision
By
|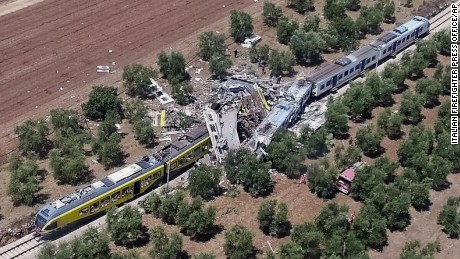 (CNN)Two passenger trains collided head-on Tuesday morning in a rural area of southeastern Italy, killing at least 23 people, a medical official said, and prompting authorities to ask for blood donations for a number of injured.
Pictures from the scene in the Puglia region showed both trains were on the same track about 15 kilometers (9 miles) south of the Adriatic Sea, apparently headed toward each other.
The wreck happened in a relatively remote area. Local authorities took to social media to ask for any doctors and medics in the area to go to the crash site to help the injured.
"It's not an area that's easily accessible. The closest highway is miles away," CNN contributor Barbie Nadeau said.