sports
Australian Open 2017: Kyrgios called out for 'bizarre' performance
By
|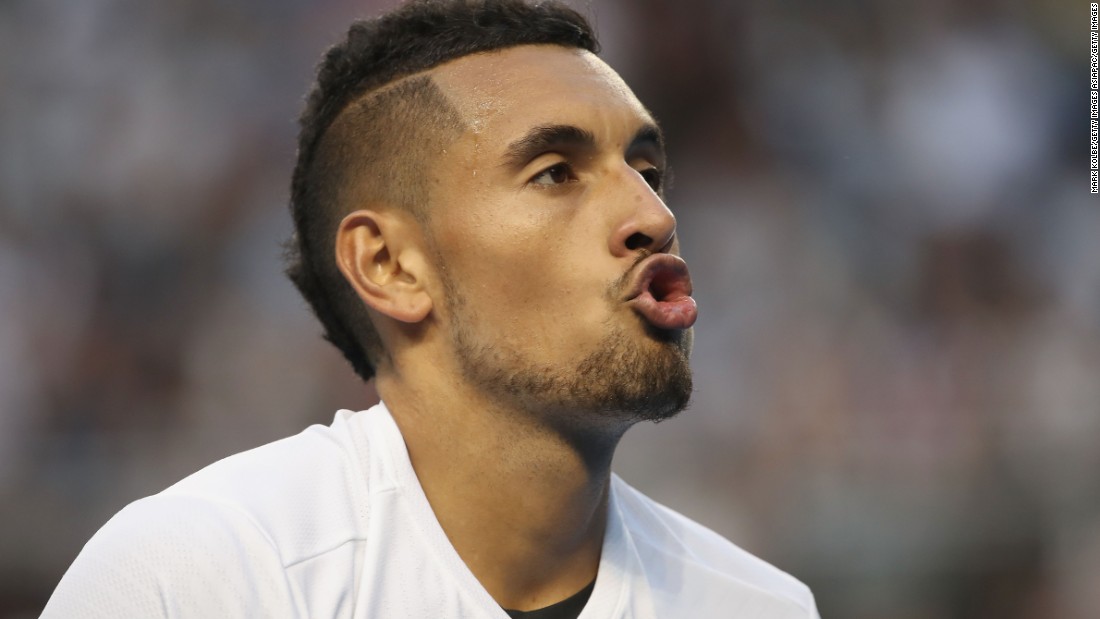 Melbourne (CNN)After earning a warning for bad language, receiving a point penalty and attempting a questionable between-the-legs shot deep in the fifth set of a defeat at the Australian Open, the reception for Nick Kyrgios wasn't warm as he awoke Thursday.
Any hope that tennis' bad boy would make a quick transformation evaporated faster than one of his aces, as Kyrgios was called out by national and international onlookers for his baffling display.
The 21-year-old made the front page of the online version of the Australian newspaper with the headline: "Kyrgios adds to shame file." The online version of another broadsheet, The Age, labeled his outing against veteran Andreas Seppi a "bizarre performance" while Melbourne's Herald Sun proclaimed it was "Nick's night of madness."
In the broadcast booth, meanwhile, retired seven-time grand slam winner John McEnroe — dubbed "Superbrat" in his playing days — said Wednesday's showing by Kyrgios was a "black eye" for tennis.
For much of Kyrgios' post match briefing with reporters at Melbourne Park, it was difficult to decipher whether he was being sarcastic or genuine. Though he did appear sincere when he said he needed a coach.
"The coach is always a question mark for me," a drained looking Kyrgios said in the aftermath of the 1-6 6-7 6-4 6-2 10-8 loss to Seppi — considered a model pro — in the second round. "I think that's one area where I obviously need to start taking a bit more seriously.
"I mean, I don't think there's anyone in the top 100 without a coach except for me. That needs to change."
Whether the world No. 13 is prepared to put in the hard graft any top coach would demand and take a break from basketball — the sport he loves more than tennis — is another matter.
Kyrgios injured his knee playing basketball in the off-season and admitted he didn't take the off-season seriously enough.
He entered that off-season amid more negative headlines after being hit with an eight-week tournament ban by the ATP and a $25,000 fine for not trying at the Shanghai Masters in October. His suspension, however, was reduced when Kyrgios agreed to consult a sports psychologist.
Asked if he was still seeing a sports psychologist, Kyrgios replied: "I am. It's going very well."
That hinted of irony.
Was that person at the tournament this week or chatting to Kyrgios on the phone?
"Johnny Mac will know, mate," he countered. "Just talk to him. He knows everything," referring to McEnroe.
Kyrgios has a long list of infractions committed at the top tier of tennis.
In 2015, he was handed a suspended ban and fined $25,000 for his lewd sledge — picked up by on-court microphones — aimed at the girlfriend of three-time grand slam winner Stan Wawrinka. He has also been fined for his behavior at Wimbledon.
Kyrgios wasn't sure if he would line up for Australia in the Davis Cup in two weeks due to the knee issue. In the immediate future, he said he wanted to get away from it all.
"Most likely I'll probably take a couple of days off," said Kyrgios, who pulled out of the doubles Thursday citing an abdominal injury.
The tennis world, at the very least, waits to see what he'll do next.
Read more: http://edition.cnn.com/