entertainment
China court clears convicted killer 21 years after his execution
By
|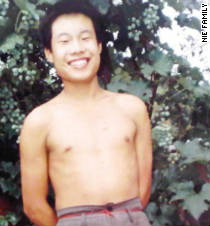 Beijing (CNN)More than two decades after he was executed for rape and murder, China's top court has found a young man innocent.
Nie Shubin's conviction was overturned Friday, the official Xinhua news agency reported, in a landmark case that has exposed flaws in China's criminal justice system.
Xinhua said another man, Wang Shujin, confessed to the crime that Nie was executed for in 2005 — 10 years after Nie was executed.
"In this case, the Supreme People's Court changed the original sentence and ruled Nie Shubin is innocent," the Xinhua report said.
The court concluded Nie's original trial didn't "obtain enough objective evidence," saying there were serious doubts about the time of death, murder weapon and cause of death.
"As the evidence is not accurate or adequate and nor can it exclude the possibilities of other suspects, it is recommended that the Supreme People's Court retry the case."
Mom fights for her son
Nie's mother, Zhang Huanzhi, told CNN in June that she was very excited about the review.
"I'll visit his grave soon to tell him that mom's efforts all these years weren't in vain — and justice will prevail in your case."
The court said that Nie's family could ask for compensation from the government.
CNN first met Zhang in her small village in 2011, when the farmer from Hebei Province was still fighting in earnest to clear her son's name, making countless journeys to the provincial capital of Shijiazhuang — some 320 kilometers (200 miles) southwest of Beijing.
Her refusal to stay quiet appears to have made a difference in this case.
Zhang's phone was switched off when CNN tried to contact her Friday.
Authorities tried Nie behind closed doors and barred the parents from the courtroom, but Nie told a lawyer hired by his family that he was beaten into a confession on his sixth day in jail.
Seven months after he was first detained, the government executed Nie — without notifying his parents.
After the initial shock, Zhang had to endure more agony to locate her son's remains and deal with a failed suicide attempt and subsequent half-paralysis of her husband, who was devastated by Nie's execution.
Flawed system
For years, it seemed no one would listen, but Zhang later found an unlikely ally in the People's Daily — the official newspaper of the ruling Communist Party. It ran a scathing commentary in September 2011 that asked: "In a case where someone was clearly wronged, why has it been so difficult to make it right?"
"Rehabilitation means little to the dead, but it means a lot to his surviving family and all other citizens," it said. "We can no longer afford to let Nie's case drag on."
Many have viewed Zhang's plight — and the case involving her only son — as an egregious example of widespread police torture, deficient due process and lax review of death sentences.
Read more: http://www.cnn.com/2016/12/01/asia/china-executed-man-found-innocent-nie-shubin/index.html