omg
Chinese growth slips to 6.7% in 2016, the slowest for 26 years
By
|
Amid fears about a Trump presidency and an unwinding property boom, the worlds No 2 economy is set for an uncertain 2017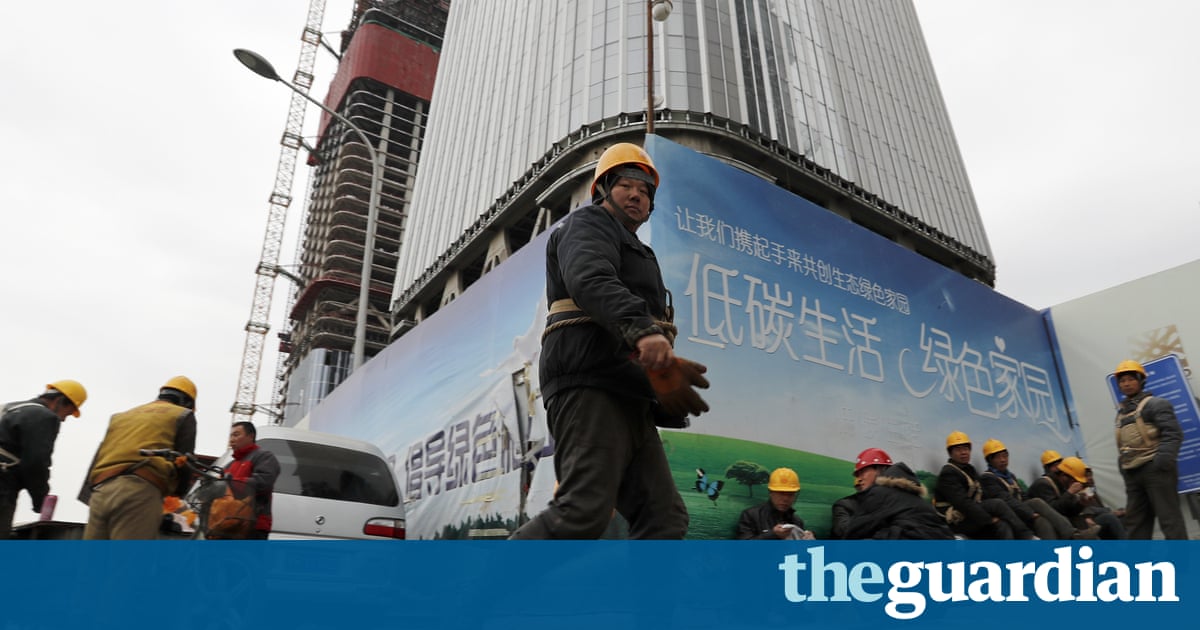 Chinas economy has grown at its slowest rate in more than a quarter-century as Beijing braces itself for an uncertain outlook that could see a trade stand-off with Donald Trump.
After a tumultuous start to 2016, the countrys leaders used huge monetary stimulus to steer the worlds number two economy to hit their annual target and also record the first quarterly pick-up in two years.
The Asian superpower is a crucial driver of global growth but Beijing is trying to reduce its heavy reliance on exports and state-backed investment and instead focus on domestic consumer spending to drive expansion.
However, the transition has proved bumpy, with the crucial manufacturing sector struggling in the face of sagging global demand for its products and excess industrial capacity left over from an infrastructure boom.
This led to the economy growing 6.7% last year, in line with forecasts but down from 6.9% in 2015, and the worst reading since 1990. The government targeted 6.5-7.0%.
The October-December increase of 6.8% also marked the first quarterly improvement since the final three months of 2014.
The national statistics bureau called the figure a good start for the governments goal of achieving 6.5% annual growth through to 2020.
Chinas economy was within a proper range with improved quality and efficiency. However, we should also be aware that the domestic and external conditions are still complicated and severe, the bureau said in a statement.
It added that the coal and steel industries had cut overcapacity, but structural reform should be the mainline this year, urging policymakers to focus on fending off risks to stability.
The positive close to the year was in contrast to the beginning, when worries about the state of the economy hammered global markets and the yuan tumbled against the dollar.
The improvement came on the back of a property boom in the first three quarters, loose monetary policy, and strong fiscal support. But there were warnings that those factors would wane in 2017.
We do not expect this [quarterly GDP] rebound to extend far into 2017, when a slowdown in the property market and steps to address supply shortages in the commodity sector ought to drag again on demand and output, said Tom Rafferty, regional China manager for the Economist Intelligence Unit.
There was also growing concern about the outlook as Donald Trump takes up residence in the White House, with the tycoon having repeatedly accused Beijing of unfair trade practices and threatened to slap huge tariffs on its goods. He has also accused it of manipulating its currency.
It was clear that Chinas exports to the US would face a harsher climate under the Trump administration, which would weigh on growth, Louis Kuijs of Oxford Economics said in a note, forecasting growth to slow to 6.3% next year.
Adding to uncertainty is a painful flood of money out of the country, with an expected hike in US interest rates leading investors to seek better returns, despite a series of measures aimed at stopping people removing their cash, sending the yuan to eight-year lows.
The weaker yuan helped boost exports in the second half, but soft December trade data added to worries about possible battles with Trump, who takes office on Friday.
A long-running bad debt problem still had to be addressed, with warnings from the IMF to the Bank of International Settlements that failure to do so could fan a serious financial crisis.
Other figures released on Friday showed Chinas industrial production rose 6%year on year in both December and the full year, while retail sales increased 10.9% in the month and 10.4% for 2016.
Fixed-asset investment, a gauge of infrastructure spending, expanded 8.1% during the full year.
Read more: http://www.theguardian.com/us