news
Dallas shooting is deadliest attack for police officers since 9/11
By
|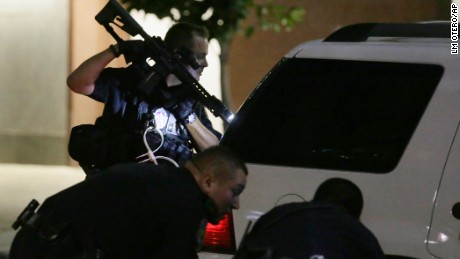 (CNN)Five Dallas police officers were killed in the deadliest incident for law enforcement in the United States since 9/11, according to statistics from the National Law Enforcement Officers Memorial Fund.
A total of 11 officers were shot at a protest that took place Thursday against police brutality.
The names of all five deceased officers have not yet been released, but they served in the Dallas Police Department and the Dallas Area Rapid Transit agency. DART tweeted that it was grieving the death of Officer Brent Thompson, 43, who joined the agency in 2009.
"To say our police officers put their lives on the line everyday is not a hyperbole, it's a reality," said Mayor Mike Rawlings in a press conference early Friday morning.
Dallas Police Chief David Brown said that he was proud of the officers and saw "the courage and professionalism and their grit to stay on scene to search for the suspects while we're vulnerable."
In 2015, 41 law enforcement officers were killed in the line of duty,
according to FBI statistics
. The number of police killed in the line of duty had been on the decline, having fallen from 51 in 2014.