movies
Drop the mic. Vin Scully, out
By
|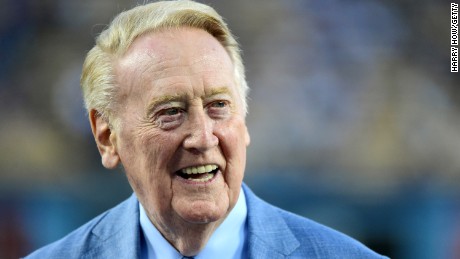 (CNN)A ginger-haired gent with vocal cords of 24-karat gold, Vin Scully is coming to the end of one of America's most colorful broadcasting careers. After a staggering 67 seasons of Dodgers baseball, based originally in Brooklyn, then for more than a half century in Los Angeles, his retirement will begin on Sunday, sometime presumably before sundown, in San Francisco, where the 88-year-old Scully is scheduled to call the television play-by-play of one more Major League Baseball game between those two friendly, feuding archrivals of his lifetime, the Dodgers and Giants, then fade from public life, out of earshot, out of sight.
Drop the mic. Scully, out.
Scully recalled those times vividly.
"I sat in our New Jersey home with my Mom and Dad and the phone rang," he said nostalgically during one of last weekend's games on TV. "It was Walter O'Malley, the owner of the Dodgers, calling me personally to offer me a job broadcasting the team's games. He didn't have an associate do it or an underling do it; he phoned me himself. If not my second father, he certainly became an uncle to me. I really miss him."
Remember, this was 67 seasons down the road, yet Scully couldn't help but retrace his roots. Things happened for him so fast. By 1953, at the tender age of 25, he became the
youngest person in history to broadcast a World Series
, doing the telecast of a Dodgers battle with the crosstown New York Yankees. The man behind the microphone was more youthful than most of the ones throwing the balls and swinging the bats.
L.A.: A different kind of place
Soon came 1958, same job, same team, new location.
O'Malley moved the whole operation, lock, stock and jockstraps, 3,000 miles west. They became the Los Angeles Dodgers, leaving behind in Brooklyn angry fans and broken hearts. The New York Giants followed suit, uprooting to San Francisco. Scully came along for the ride. He had been a New Yorker his entire life, cheering through knotholes for the Giants as a child, converting to the Dodgers in his adulthood but NOT cheering, inasmuch as for a professional, this simply wasn't done.
L.A. was, shall we say, different? For starters, no proper baseball facility was there yet, so when the Dodgers made it to the 1959 World Series, they needed to hold it in the 93,000-seat Los Angeles Memorial Coliseum, home to college and Rams football and the 1932 Summer Olympics. It was a preposterously contoured park, a left-field fence being a Little League-like 251 feet from home plate. Windy pop-ups flew over it.
In which other ways was California a new world? Well, there was Hollywood all around Scully now, of course. He ended up in Bob Hope movie comedies and on the "Mr. Ed" television nonsense, where the Dodgers gave a tryout to a talking horse. He hosted a game show on NBC, "It Takes Two." And this was back when Scully's presence was required at more than 150 baseball games each year, road and home, season and postseason.
Baseball was not his whole world. Scully did pro football games and golf for CBS. He was, for example, there when Joe Montana threw a touchdown pass to Dwight Clark to give the San Francisco 49ers one of their most memorable victories, in 1982.
So many tales to tell, so many things to see. But the grind took its toll. Years and years of trains and planes and buses and gridlocked cars. A lot of memorable moments, mixed in with thousands that blurred and bored. Scully lost a 35-year-old wife and a 33-year-old son along the way, one from a medical drug overdose, the other from a helicopter crash. His faith and family endured, including second wife Sandra, still by his side a week ago when Scully mentioned their grandkids and
said on TV
, "God has been so good to me."
He endured as well, sticking around long enough not only to do broadcasts on radio and TV, but on laptops on apps. And you never knew what he would say. Hey, he never knew what he would say.
Finally, a blot on his "escutcheon," he blurted out during a recent Dodger game when Kershaw gave up a hit for the first time. "Sorry, I don't know where I came up with that."
What a farewell tour it has been. Except for one asterisk, that Scully didn't tour. He gave up the road trips as the years wound down, first the East, then some of the West, making a rare exception as with the San Francisco dates this weekend. So a traditional goodbye tour of the circuit did not occur. As a colleague from the Dodger broadcast crew, Charley Steiner, likes to put it: "Vin's the only guy whose farewell tour came to him."
From the field up the Dodger Stadium elevator and escalator, like a pilgrimage to a high lama on a mountaintop, came a procession from the visiting teams, week by week. Young men like Bryce Harper, Manny Machado, Giancarlo Stanton, fresh princes of baseball all. Older guys like David Ortiz and David Ross, retiring from active duty themselves. Considerably older ones like Dusty Baker and Joe Maddon, managers who knew a true baseball superstar when they saw one. To these men in uniform, Scully made them still feel like kids.
A human highlight reel, he broadcast Don Larsen's perfect game of 1956, Hank Aaron's
record-breaking home run
of 1974, Bill Buckner's ball-between-the-legs moment of 1986, Kirk Gibson's one-armed, one-legged walk-off of 1988. Loyal fans can quote his lines. "Fans" being a relative term, one Scully himself avoids, considering it an unkind way of saying "fanatic." He refers to spectators and viewers as "friends" instead.
Have they heard the last of him? Could be. Propositions that he broadcast October's postseason games, Dodgers directly involved or not, have been politely rejected. The option to change his mind is definitely his.
Barring that, Vin Scully's voice will be mute. The hits and runs and errors and wins and losses and heroes will go on and on, but without the best narrator who ever came our way. He has played through.
Read more: http://www.cnn.com/2016/09/30/opinions/drop-mic-vin-scully-downey/index.html