omg
Dutch election: Europe's far-right populists fail first test
By
|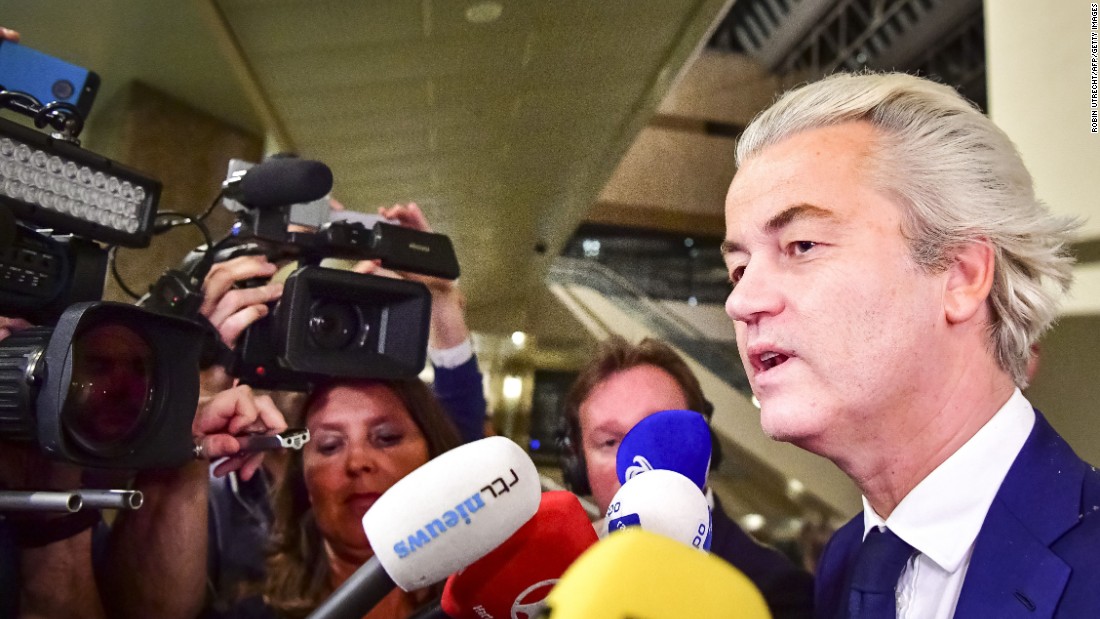 (CNN)Far-right populism has failed its first test in Europe this year after conservative party leader Geert Wilders came a distant second in the closely-watched Dutch election.
Prime Minister Mark Rutte took to the stage in the Hague Wednesday night to claim victory, amid wild cheering and whistling from his jubilant supporters.
"This night is a night for the Netherlands — after Brexit, after the American elections — where we said stop it, stop it to the wrong kind of populism," he said.
With 94% of the vote counted, Rutte's VVD party is projected to win33 seats out of a total 150, ahead of Wilder's PVV party which won 20 seats, only one more than the mainstream Christian Democratic Appeal and D66 parties. Voter turnout was 81%, the highest in three decades.
Despite the celebrations, Rutte's party won eight fewer seats than in the 2012 vote, when it claimed 41.
The election was widely seen as a test of populist right-wing sentiment in Europe, ahead of the French Presidential election in April and the German national vote in September.
Wilders, who is staunchly against mass immigration and the European Union, made a defiant speech Wednesday night claiming he was "part of the winners."
"Rutte uses terrifying words when he says that the elections have put a halt to the wrong type of populist … (He) has not got rid of me yet," he said.
Relief in Europe
During his speech to supporters, Rutte said many European leaders had already called to congratulate him on his victory.
French President Francois Hollande issued a statement Thursday morning, calling it a "clear victory against extremism."
"The values of openness, respect for others, and a faith in Europe's future are the only true response to the nationalist impulses and isolationism that are shaking the world," he said.
France's Foreign Minister Jean-Marc Ayrault posted on Twitter: "Congratulations to the Dutch for preventing the rise of the far right," he said. "Willing to work towards a stronger Europe."
Germany's foreign ministry said, "Large majority of Dutch voters have rejected anti-European policies… That's good news. We need you for a strong Europe!"
There was no response Wednesday evening from Wilders' anti-EU allies across the continent, including right-wing French Presidential candidate Marine Le Pen, who is polling strongly ahead of the first round of voting on April 23.
'European spring' will come: Wilders
The far-right politician was considered to have ridden the same wave of
anti-establishment fervor
that saw UK voters opt to leave the European Union, and the election of US President Donald Trump.
A controversial figure, Wilders ran on a "de-Islamification" platform, calling for Islamic schools to be closed and the Quran and burqa to be banned.
Speaking after the election loss, Wilders said he was still expecting to see a "European spring" for his supporters.
"I think our influence has been enormous … Our patriotic spring will continue, will really start. And if they need me or if they need the PVV for talks (on a coalition) then I am happy to take part," he said.
"If not, then they haven't seen the back of me yet."
Coalition talks to begin
The Netherlands has a complicated political landscape.
More than 28 parties took part in the vote and, with no party winning a majority of seats, a multi-party governing coalition will have to be formed.
Final results are not expected to be known until possibly Friday, the head of the ANP election service Mark Westerhoff said. There are 22 of 388 municipalities left to report.
When the results are official, Rutte will begin negotiations to form government. Other potential coalition partners include the GroenLinks (Green left) Party and the Socialist Party, which according to initial results are poised to win 14 seats each.
Support for the PVDA (Labour) party, which had been Rutte's previous partner in government, plunged from 38 seats to just nine.
In his victory speech, Rutte appeared ready to negotiate.
"Now in the next couple of weeks and months it is important to unite the country, we have to make sure that we form a stable government so that the country for the next four years can be governed wisely," he said.
Read more: http://edition.cnn.com/