entertainment
Golden Globe Awards: Stars react to nominations
By
|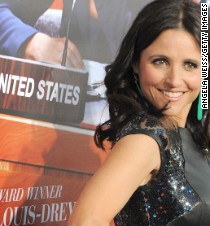 (CNN)And the award for Best Reaction to a Golden Globe nomination goes to Julia Louis Dreyfus.
The "Veep" actress was among the names read Monday morning, but her statement to press proves why she's already a winner in the hearts of many.
"Huge thanks to the Hollywood Foreign Press Association and the Russian hackers that made our nominations possible," the actress said.
Dreyfus wasn't the only nominee who got political in the aftermath of her nomination. "Transparent" creator Jill Soloway used her moment to highlight the importance of her Amazon series starring Jeffrey Tambor.
"In this post-Trump America, intersectional voices are the future of the taking our power against patriarchy," she told CNN in a statement. "Artmaking — and the revolutionary power of art as a method of political explosiveness — are my rallying cry and my current reason to live these days. This morning puts so much more gasoline in my engine."
"Transparent" earned two nominations.
Joining Dreyfus in the hilarious reactions category is Ryan Reynolds, who earned his first Golden Globe nomination for "Deadpool."
"Honored to be nominated by the HFPA for a Golden Globe. And possibly more honored the film itself is being recognized this way," he said. "As we speak, the entire 'Deadpool' team is engaged in a grotesque, early morning tickle-fight."
Celebrities on the west coast were up before the sun to hear the nominations read by Anna Kendrick, Laura Dern and Don Cheadle live from Beverly Hills.
The young stars of Netflix's "Stranger Things" were among them.
The show's official Twitter account shared a video of four of the actors learning about their first-time nomination.
Lily Collins seemed to be equally excited about her first-time nominations for her role in "Rules Don't Apply." The nomination puts her up against Hailee Steinfeld ("
The Edge of Seventeen
"), Annette Benning ("20th Century Women"),
Emma Stone
("La La Land"), and Meryl Streep ("Florence Foster Jenkins").
The moment your mom captures you being nominated for your first Golden Globe. Priceless. I still can't breathe. Beyond honored, thankful, and proud. This can't be real!…
"I've never felt so shocked, honored, and proud," she said in a statement. "Sharing this moment with my mom sitting on our couch in the dark is something I'll never forget. It's a complete dream come true. I still can't breathe."
The 2017 Golden Globes airs January 8 on NBC.
Read more: http://www.cnn.com/2016/12/12/entertainment/golden-globe-awards-2017-reactions/index.html