news
Gustav Metzger: an artist who tore down the old to build the new
By
|
The German artist, who has died aged 90, could make art out of trees, newspapers, fridges or cars all of it designed to fight capitalism
For years, I would encounter Gustav Metzger in public talks and at galleries, often away from the beaten track. He was always there, always watching and listening. At first I found him a bit intimidating. More recently, I would see him, looking slightly frail and small and in a certain disarray, struggling with bags of documents and other papers, as he went to and from where he lived in Londons East End.
His activities included the accumulation of thousands of newspapers and other ephemera, and he could appear a little eccentric and vulnerable. But impressions can be deceptive. Everything Metzger did had purpose, even his inveterate walks in the city he had known since the second world war.
From the 90s onward, appearances in large exhibitions where Metzger showed, on one occasion, the congealed liquid slides he had once used for light shows with Cream and the Who in the 60s located him among younger artists who regarded him as a sort of errant father figure.
For Metzger, who arrived in England on the Kindertransport in 1939, it was David Bomberg (whose background was also Polish-Jewish) who was a kind of father figure. Metzger studied with the painter for years at Borough Polytechnic working in his influential life class alongside Frank Auerbach and Leon Kossoff before choosing a different path.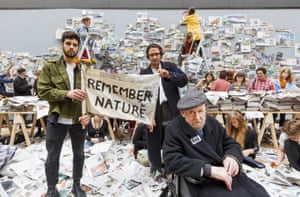 Read more: http://www.theguardian.com/us