omg
Healthcare bill hangs in balance as Republicans agonise over Trump's vote gamble
By
|
Late-night meetings prove inconclusive as president forges ahead with Friday vote on flagship promise despite fears bill may fail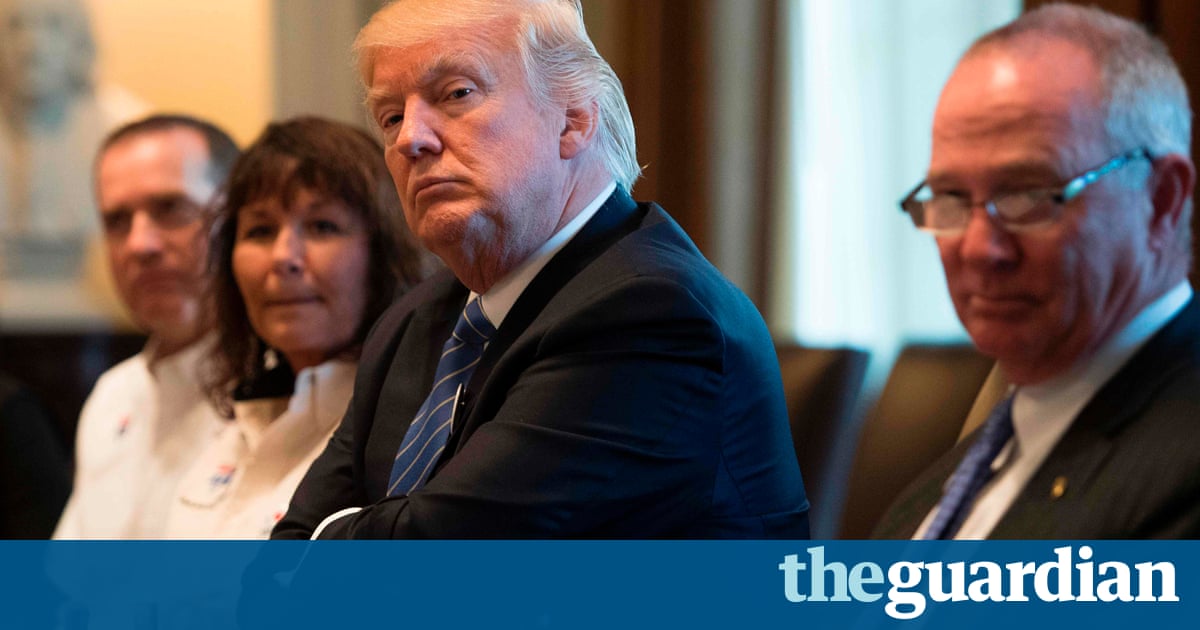 After weeks of legislative bets and bluffs, Donald Trump decided on Thursday night that it was time for everyone to show their hand on healthcare reform.
As Republican legislators gathered for emotional late-night meetings on Capitol Hill, Trump sent over his most trusted advisers Steve Bannon, Kellyanne Conway, Reince Priebus and budget director Mick Mulvaney to try to help craft majority support for legislation to replace Barack Obamas signature healthcare law.
The message from the White House was plain: vote on the bill on Friday. Let opponents cast their votes publicly. And if the legislation fails, there wont be another effort to make good on the flagship Republican promise to replace Obamas Affordable Care Act.
The president was moving on, his advisers told legislators.
New York Republican Chris Collins, a longtime Trump ally, told reporters it was now or never on repealing Obamacare. The president said tomorrow therell be a vote, he said. Itll go up, itll go down but we are then going to move on to the rest of his agenda.
At some point you do have to move on, Collins said. In the private sector, if you lose a deal you move on to the next deal … if [Trump] cant get the votes tomorrow, hell never get the votes and its time to move on.
The Republican leadership dutifully scheduled multiple votes for Friday, making room for amendments that could nail down conservative support and for other changes to a bill whose contents were still in flux.
For seven and a half years we have been promising the American people that we will repeal and replace this broken law, because its hurting American families, House Speaker Paul Ryan said late Thursday. And tomorrow were proceeding.
The anticipated changes to the bill on Friday, just hours before members were likely to vote on it, were not minor. One amendment would erase a requirement in the Obama law for insurance plans to cover basic services, called essential health benefits such as hospital visits, prescription drugs and maternity and newborn care. Instead, individual states would decide whether health insurance plans were mandated to cover those services.
The stakes of passage were high, with Trump apparently betting that the political stain of failure would not be attached to him. A new Quinnipiac University poll showed that Americans disapprove of the healthcare overhaul by a margin of 56% to 17% with support among Republicans hovering at just 41%. However, the same poll also showed that a majority of Americans wanted at least some changes to Obamacare.
Activity on the bill proceeded too quickly for analysts to keep pace. Early Thursday evening the nonpartisan Congressional Budget Office released a report finding the amended bill would cost more than the original version while doing nothing to prevent the anticipated ejection of 24 million people from health insurance rolls in the next decade. The report became almost immediately obsolete as new amendments and agreements were hooked on.
To make it to the Senate, where the bill would be expected to undergo yet another extensive overhaul, the legislation could afford no more than 22 Republican defections in the House, according to anticipated vote attendance. Interviews with many Republican House members on Capitol Hill Thursday night made it clear that passage was a very open question.
Republican members exiting their conference meeting before 9pm gave mixed assessments of the bills prospects. Asked whether the bill had the votes to pass, Charlie Dent, a member of the centrist Tuesday Group, said I dont know.
Ive declared my opposition to the bill, he said.
Jeff Fortenberry of Nebraska said the bill was improving after a very strong meeting. Deeply emotional.
There are some people who have principled objections, he said.
Joe Barton, a conservative member of the Freedom Caucus who planned on voting yes, thought it would succeed but not by much. I think theyll be a vote and I think it will pass. When asked by the Guardian to make a prediction, he gave the odds of success at 50.1% to 49.9%.
The president deployed his signature method for coaxing votes Thursday night, tweeting that Disastrous #Obamacare has led to higher costs & fewer options and exhorting members to #PassTheBill.
Glenn Thompson of Pennsylvania described it all as typical legislative sausage-making. When asked what type of sausage, he insisted: Tasty!
Many Republicans were willing to accept an imperfect bill that resulted from this sausage-making. Scott Taylor, a freshman from Virginia, said of the bill: Personally I believe 85% of something is a hell of a lot better than nothing so I think its important we move in the right direction.
There was still plenty of skepticism from moderates, who have been far less prone to rebellion than conservatives in the past.Some like Dan Donovan of New York and Leonard Lance of New Jersey insisted to reporters they were still voting against the bill. Lance told reporters: I am a no.
He expressed his hope that failure of the bill would force bipartisan negotiations. Lance said that if the legislation did not succeed on Monday I hope that the Democrats will come to the plate and I am critical to the Democrats for not coming to the plate. I think they have a responsibility because the exchanges are in significant difficulty.
On the other wing of the Republican conference Trent Franks, an arch conservative member of the Freedom Caucus, praised his groups efforts in negotiations to strip the essential health benefits from the bill. The Freedom Caucus have paid some pretty profound dividends here in the last few hours in that there is going to be a new amendment going into the bill.
The Arizona Republican touted his groups efforts, saying: I am convinced of this one thing that what they might have called acrimony on behalf of House Freedom Caucus is creative tension that improved the bill in a pretty profound way.
Franks also argued this action had major political benefits. The thing that is of consequence in that regard is that has the potential to actually reduce the premiums, he said. I think that will not only be very very good for the American people but might sustain us in an off-year election and keep the gavel out of Nancy Pelosis hands who would do the worst with it.
Matt Gaetz, a Tea Party Republican from Florida, said he hoped Republicans were unified and the bill would pass. I sure hope so, Gaetz said, or well have the opportunity to watch a unified Democrat caucus impeach Donald Trump in two years when we lose the majority.
Read more: http://www.theguardian.com/us