news
High School Couple Offers To Send P***ies To Donald Trump
By
|
As a man who has infamously expressed his fondness for grabbing women by their lady parts without consent, President-elect Donald Trump should be thrilled by the hordes of unsolicited vaginas headed his way.
Though we're sure he won't be.
This week, an "LGBT high school couple," who identify themselves simply as Jules and Gabe, launched Send Trump Pussy, a nonprofit website that allows anyone in the world to send Trump an edible, flesh-colored vulva on a stick for only $3.99.
The website claims that it will anonymously send all lollipop orders directly to Trump's headquarters in New York. Those yonic treats will supposedly look like this: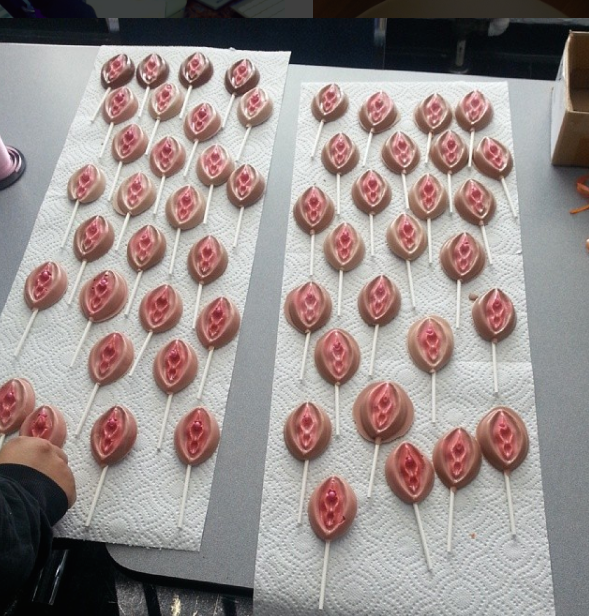 The couple launched their campaign with one goal in mind: to let the incoming president of the United States know that there are people who are not happy with the result of this year's election.
The website criticizes Trump on women's issues ("He's a mysogynistic pig"), his stance on immigration ("He's building a fucking wall") and his apparent inability to represent all of America ("Trumps rhetoric is xenophobic, racist, and misogynistic. He's the furthest thing from inclusive, and therefore he doesn't speak for US!") as reasons you should support Send Trump Pussy and its vagina pop-making endeavors.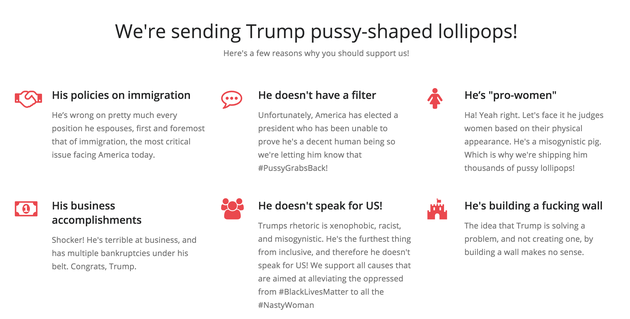 Although the couple did not identify themselves further than first names on their website, their domain's registration, which was created Dec. 18, 2016, is linked to a mailing address in Copenhagen as well as a phone number with a Danish international code.
Earlier reports on Send Trump Pussy showed that its creators claimed they would donate 50 percent of the proceeds to Planned Parenthood, however all mentions of donations appear to have been removed from the lollipop campaign's website.
A request for comment sent by The Huffington Post to an email provided on the website was not immediately returned.
Read more: http://www.huffingtonpost.com/entry/send-trump-pussy_us_585db992e4b0eb5864867257