movies
Hollywood, sometimes the truth is better than fiction | Catherine Shoard
By
|
Why insist on reimagined propaganda when the real history behind The Birth of a Nation is as relevant?
When The Birth of a Nation premiered at the Sundance film festival in January, it was met with a warm reception. And when I say warm, I really mean it. The first standing ovation came before the opening credits.
Small wonder: rarely was such a movie so required. A few days before its premiere, the Oscars So White controversy again exploded, as no actors of colour were nominated for the second year running. Beyond that bubble, the Black Lives Matter movement gathered anger, anticipating a horrific year. Both inside and outside Hollywood, there was a keen appetite for films that gave big roles to non-white actors and told stories of emancipation previously suppressed ordirected by white people.
Nate Parkers biopic of Nat Turner deliberately takes the title of the notorious 1915 Ku Klux Klan propaganda film directed by DW Griffiths. [Spoiler alert] The new movie recounts the story of the leader of an 1831 slave revolt in Virginia which led to the deaths of 60 white people and then about 200 black people.
It is direct and frank and stirring in aim as well as its aesthetic. It simmers for 90 minutes, as its hero suffers and witnesses the suffering of others, beforeunleashing almighty revenge.
Hence the ecstatic ovation that also closed the Sundance premiere. And hence its speedy sale to Fox Searchlight for $17.5m (14m) a record-breaking sum. And an incredible bid of confidence, particularly given that the film it most obviously emulates, Steve McQueens best picture winner 12 Years a Slave, underperformed at the US box office, taking less than a third of its global total there.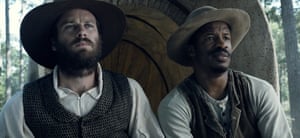 Read more: https://www.theguardian.com/commentisfree/2016/oct/12/hollywood-truth-better-fiction-birth-of-nation-nat-turner