news
Hong Kong, where history has become a battleground for Beijing
By
|
Residents of the city are being encouraged to engage with their past warts and all and not allow it to be airbrushed
Stepping off the subway in his army uniform, Victor Yu prepared to face the onslaught ahead. Instead of charging into a crowd armed with rifles, he was met with smartphones, overwhelmed on a street in Hong Kong by pictures and selfies rather than enemy fire.
Yu is a member of Watershed, a local historical group working to raise awareness of what they feel is Hong Kongs forgotten history. The performance comes at a time when instruction of the citys history is becoming increasingly politicised, with recent government attempts to bury details that may be embarrassing for China.
About 20 volunteers dressed in period British military uniforms have been gathering on the streets of the city over the past month to mark the 75th anniversary of Black Christmas, when in 1941 British forces in Hong Kong surrendered to the Japanese, the first ever for a Crown colony.
Most Hong Kongers dont know anything about the battle to defend the city, they can only remember the Japanese occupation and think we gave up without a fight, said Taurus Yip, 24, co-founder of the group. All they know is the Japanese occupation was harsh and lasted for three years and eight months, that line is repeated over and over.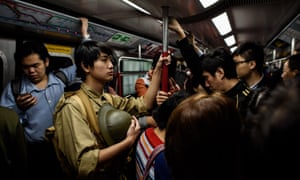 Read more: http://www.theguardian.com/us