news
How Barack Obama paved the way for Donald Trump | Gary Younge
By
|
Dont blame it all on racism. During the financial crash Obama sided with the bankers, not people losing their homes making Trumps victory possible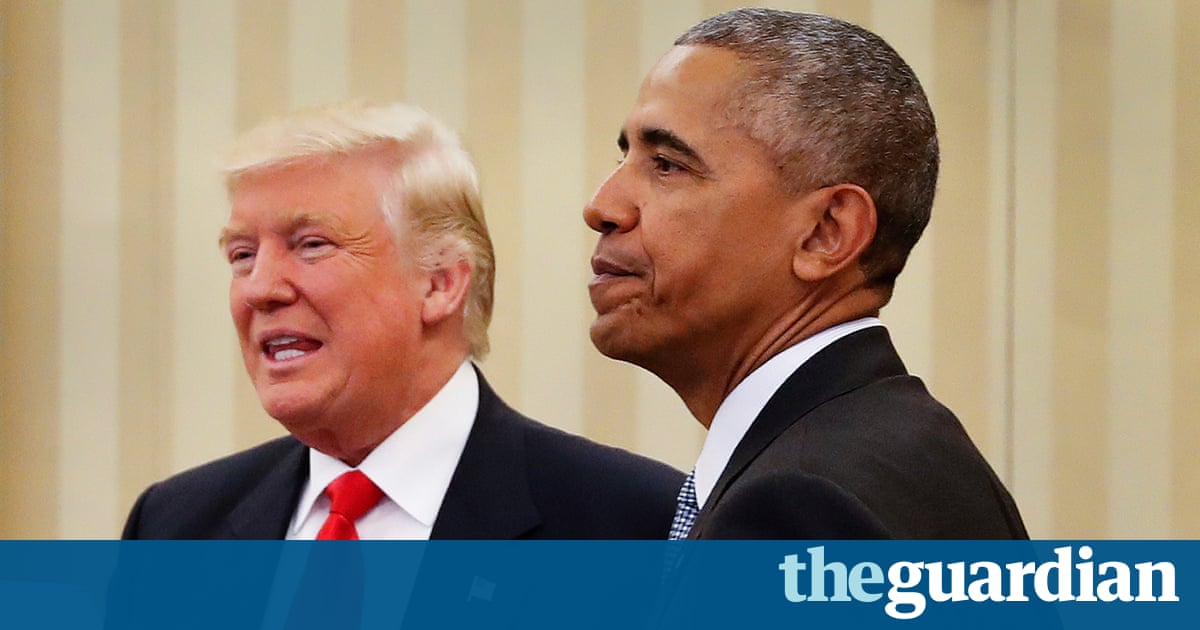 To celebrate its 225th anniversary, the US Mint and Treasury last week unveiled plans to issue a 24-carat commemorative coin depicting Lady Liberty as an African-American woman. With full lips and braided hair tied back in a bun, her gold-embossed profile is framed by the words LIBERTY above and In God We Trust below. As we as a nation continue to evolve, said Elisa Basnight, the Mints chief of staff, so does Libertys representation.
Sadly, the representation is evolving far faster than the nation. The coin is worth $100 (80); in 2010 the median net wealth for women of colour was calculated at just $5. Black women now earn 65 cents for every $1 made by a white man the same gap as 20 years ago. So the Treasury has produced a coin in these womens image that most cannot afford because the economy is producing low-wage jobs that leave them with liberty without equality.
For the past eight years American liberals have gorged themselves on symbolism. A significant section of the population, including those most likely to support Barack Obama, have felt better about their country even as they have fared worse in it. The young, good-looking, intact, scandal-free black family in the White House embodied a hopeful future for America and beyond. Photogenic, with an understated chic, here were people of colour who looked even better in black and white. With personal stories of progress without privilege, they provided Camelot without the castle: evoking a sense of possibility in a period of economic stagnation, social immobility and political uncertainty.
As Obama passes the keys and the codes to Donald Trump at the end of this week, so many liberals mourn the passing of what has been, remain in a state of disbelief for what has happened, and express deep anxiety about what is to come. It is a steep cliff politically, rhetorically and aesthetically from the mocha-complexioned consensual intellectual to the permatanned, pussy-grabbing vulgarian.
But there is a connection between the new normal and the old that must be understood if resistance in the Trump era is going to amount to more than Twitter memes driven by impotent rage and fuelled by flawed nostalgia. This transition is not simply a matter of sequence one bad president following a good one but consequence: one horrendous agenda made possible by the failure of its predecessor.
It is easy for liberals to despise Trump. He is a thin-skinned charlatan, a self-proclaimed sexual harasser, a blusterer and a bigot. One need not exhaust any moral energy in making the case against his agenda. That is precisely what makes it so difficult to understand his appeal. Similarly, it is easy for liberals to love Obama. Hes measured, thoughtful, smart and eloquent and did some good things despite strong opposition from Republicans. That is precisely what makes it so difficult for liberals to provide a principled and plausible critique of his presidency.
One cannot blame Obama for Trump. It was the Republicans craven to the mob within their base, which they have always courted but ultimately could not control that nominated and, for now, indulges him. And yet it would be disingenuous to claim Trump rose from a vacuum that bore no relationship to the previous eight years.
Read more: http://www.theguardian.com/us