news
How the Skimm Became a Must-Read for Millennials
By
|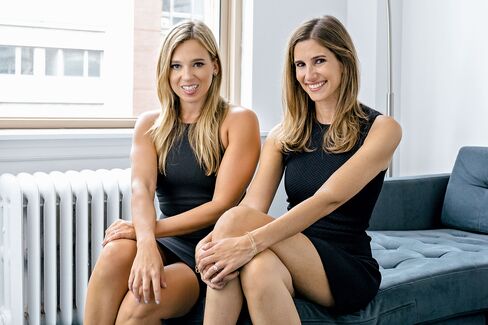 On the morning of Oct. 20, the New York Times, the Washington Post, the Wall Street Journal, and pretty much every other major U.S. publication led with the previous nights big story: the final presidential debate in Las Vegas.
At the Skimm, which sends a newsletter called Daily Skimm to the in-boxes of more than 4 million young professionals each morning, the debate was the main event, too. But the tenor of the Skimms coverage was, uh, less formal: Trump and Hillz had a night out in Vegas, the summary began. In Skimm parlance, Hillz is Hillary Clinton. Donald Trump doesnt get a nickname, though during the 2012 election Mitt Romney was known as Mittens.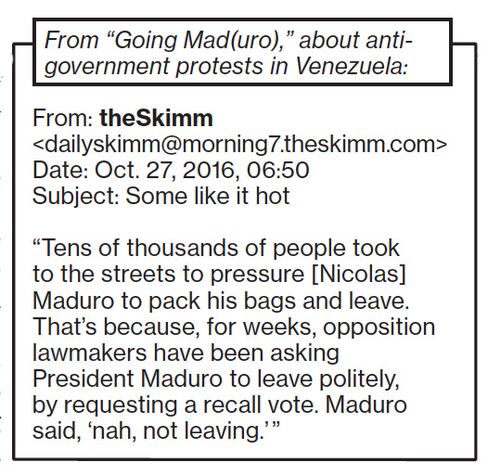 Given the Skimms chatty toneand that the Oct. 20 edition also featured a story about a chain-smoking chimpits take on the debate was surprisingly sober. It didnt declare either candidate a winner, and their arguments were summarized faithfully. Trump and Hillz, the Skimm wrote, brought their A-game. Special praise was reserved only for moderator Chris Wallace, who handled the candidates like a boss.
It might be helpful to think of the Skimm as a millennial-friendly update to Henry Luces original Time magazine, combining an earnest journalistic comprehensiveness with in-jokes. As the name implies, the Skimm wont satisfy any deep intellectual curiosity; it will help you avoid seeming uninformed at a cocktail party, though. Each blast consists of news summaries and links about politics, business, culture, and sometimes sports (under the heading Balls). Its a throwback, especially at a time when new-media outlets such as BuzzFeed are tailoring content to readers based on interests or identities in the hope that it goes viral on Facebook and Twitter. The Skimm has a website and Facebook page, too, but the vast majority of readers consume it as an e-mail. There is no customization. There are no hot takes.
Founders Danielle Weisberg and Carly Zakin, both 30 and former NBC News producers, started the company in 2012 while sharing an apartment in New York. The idea arose from seeing most of their friends avidly consuming media, including lifestyle blogs, Instagram, and Netflix, while often remaining woefully underinformed about world events. There was no news source geared to them, Weisberg says, sitting on a sofa at Skimm headquarters in Manhattans Flatiron neighborhood. There was such a trend toward personalizing the news with Twitter. Zakin nods, finishing the thought: Personalization was limiting the well-roundedness of people.
Today, Weisberg and Zakin are co-chief executive officers and co-edit the newsletter. The Skimm girl, Weisberg says, is that friend everyone has whos sarcastic but always knows whats going on. Weisberg and Zakin argue that millennials value conventional news and aspire to a basic level of civic competence. The Skimms success suggests that whats broken about the news isnt the news, but the delivery mechanism.
Weisberg and Zakin met during a college study-abroad program in Rome and spent about three years as roommates. When they started at NBC after graduating in 2008Weisberg from Tufts University, Zakin from the University of Pennsylvaniathey thought theyd landed dream jobs. We were both in love with news, Weisberg says. We wanted to be Katie Couric. They assumed theyd be promoted and eventually become anchors or executive producers. Then the recession hit, complicating an already grim picture for the networks. Older viewers were turning to opinion-driven cable channels such as Fox News; younger viewers werent watching TV at all. Weisberg and Zakin saw their careers going sideways. That upwards trajectory just didnt feel like it was there, Weisberg says. We saw our bosses taking buyouts.
The friends chose to deliver their newsletter by e-mail partly to fit into the daily routines of their readerstwenty- and thirtysomethings check e-mail before getting out of bedand also because e-mailing seemed easier than launching a website. They started the Skimm in July 2012, leading with a story about a bus bombing in Bulgaria.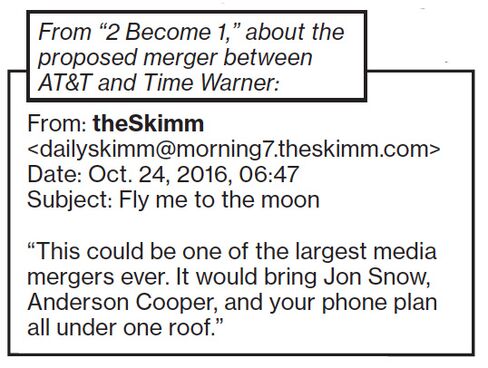 Every night around dinnertime, Weisberg and Zakin would sit down to write, often working past midnight. To ensure timeliness, they slept in shifts, waking up once an hour to check that nothing new had happened in the world until they published at 6 a.m. Then theyd get a few hours of real sleep and begin their workday at about 10, meeting with potential investors, pitching friends in the press to cover their startup, and collecting e-mail addresses outside Equinox gyms and Starbucks coffee shops. It was crazy, Weisberg says. After six months, they refined their schedule: no editorial work before 4 p.m. and nothing related to the business after that.
Their approach, however, didnt inspire confidence among the venture capitalists they pitched in 2013. Sites focused on video and social media sharing were the rage; the scuttlebutt in Silicon Valley was that young people were abandoning e-mail. Everyone told us e-mail was dead, Weisberg says. Zakin remembers people saying, No one wants to invest in content. Basically, Weisberg continues, anything about the Skimm that today people celebrate, when we started, people hated.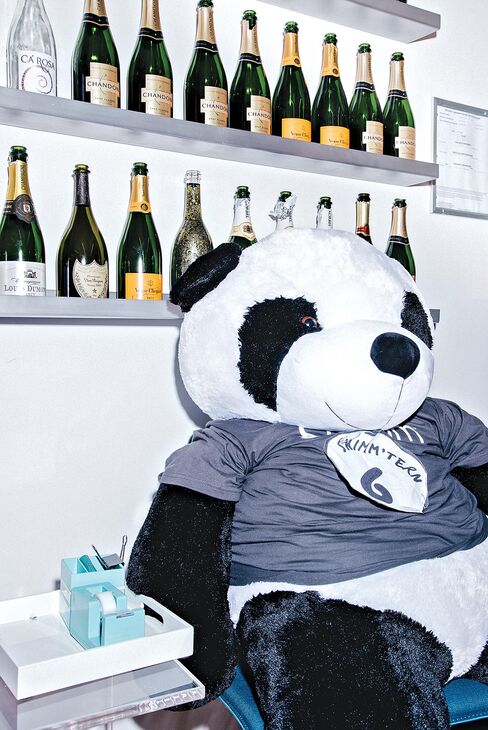 After more than 100 rejections, they landed $1.1 million in an investment round led by Homebrew, an early-stage venture capital firm founded by two former Google executives. We thought this could be big, not just the DailyCandy of news, says Homebrews Satya Patel, referring to the shopping newsletter popular in the mid-2000s. (NBC purchased it in 2008 and shut it down in 2014.) Carly and Danielle can build the Skimm into the Oprah of their generation.
Getting to this point hasnt been easy. The Skimm transitioned from a do-it-yourself guerrilla media property to a company employing 35, including software developers, ad salespeople, and full-time writers. The first time someone asked, Whats your ESP? Zakin recalls, using the acronym for e-mail service provider, I was like, Oh my God. They know I am psychic. We had no idea what these platforms were.
Today, the Skimms audience may be modest compared with that of BuzzFeed, which attracts more than 200 million visitors a month, but it represents a coveted demographic. Eighty percent of its readers are women, most from 22 to 34. And the company boasts open ratesthe percentage of e-mails actually readof 35 percent, compared with typical rates, which, according to software provider MailChimp, are 21.5 percent. That means each day more than 1 million people read Daily Skimm. Theyre able to reach an audience thats particularly hard to get toyoung, successful women, says Molly Peck, director of marketing for Buick, which has been advertising within Skimm e-mails since the beginning of 2016.
The Skimm has managed to do something its new-media peers have struggled with: turning readers into paying customers. In April the company introduced an iPhone app, which for $2.99 per month alerts readersin the same voice as the newsletterto important events, such as the day Google reported its earnings or when the new Gilmore Girls hits Netflix. The Skimm isnt just building a user base, says Rich Greenfield, a media analyst who was one of the Skimms first angel investors. Theyve been keeping them engaged for years and years. One especially engaged member of the Skimms audience: James Murdoch, son of Rupert and CEO of 21st Century Fox. In June, Fox led an $8.5 million investment round in the company with several venture capital firms and the New York Times Co. We were interested in the point of view of the founders and the simplicity of what they were trying to do, says Randy Freer, president of Fox Networks Group.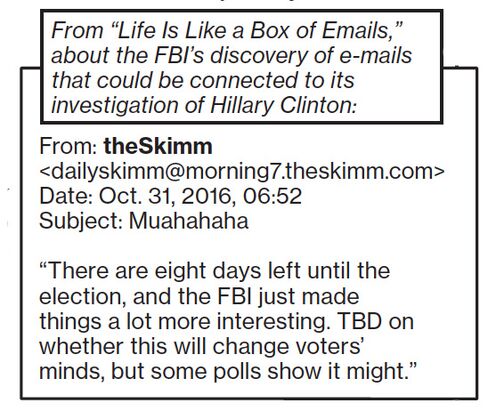 Although celebrity endorsements helped the Skimm growGirls creator Lena Dunham tweeted about it in 2013, and Oprah praised it in 2014the co-founders also cultivated grass-roots support by creating meetups for its 15,000 Skimmbassadors. Readers get a unique code to distribute to friends and can order swag depending on how many users they sign up. Bringing in 10 earns you a tote bag; 1,000 gets you a trip to New York to tour the companys offices.
This in-crowd sensibility is reinforced in the content of the newslettersin the tone of the write-ups, the obscure references, and the general goofiness in each days subject line (Suns out, buns out; Stop looking at me, swan; and Hi, pumpkin, for example). All Skimm readers get a shout-out on their birthday. Were a company about membership and about activating our audience, Zakin says.
Instead of endorsing a candidate, the Skimm devotes the bottom of its daily e-mails to the importance of voting, including links to a voter-registration website and a guide to state-registration deadlines. Since Sept. 12 the startup has registered more than 110,000 voters as part of a partnership with the nonprofit Rock the Vote and the Lifetime cable channel. Its also cultivated a revenue stream recommending books and wine, from which it earns affiliate fees.
The co-founders decline to discuss any financial information, but clearly theyre doing well. When they met with representatives from the New York Times Co. this summer, the proceeds from their iPhone appat the time the top-grossing news app on Apples U.S. chartshelped make their case. They were like, Hows the app doing? Zakin recalls. And we were like, Were beating you.