news
Hungary submits plans to EU to detain all asylum seekers
By
|
Government spokesman says applicants would be held in shelters, and denies they would be detention centres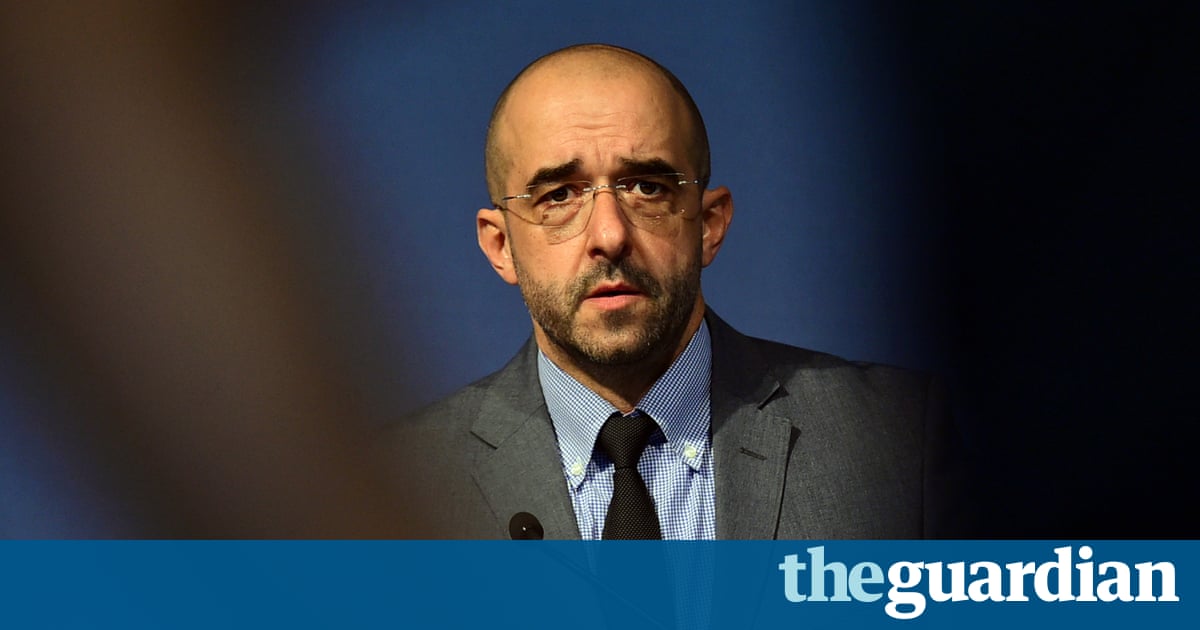 Hungary will submit proposals to the EU to protect Europes borders by automatically detaining any asylum seeker for the whole period of their asylum application, according to the governments chief spokesman, Zoltn Kovcs.
Kovcs claimed Donald Trumps election in the US was contributing to a change of mood in Europe that vindicated the Hungarian prime minister Viktor Orbns tough position on migration, and said the recent EU summit in Malta marked a turning point in the EUs attitude to migration in the Mediterranean.
At a briefing in London, he said anyone seeking asylum through Hungary would be kept in shelters for the whole period of their application, though they would be free to go back to their own country at any point.
He said: No migrants not even those who have already issued their request for asylum will be able move freely until there is a primary legal decision whether they are entitled for political asylum, refugee status or anything else, so they are not entitled to move freely in the country.
He predicted applications would take many months to process and each case would need to be examined individually rather than as a group. It is not clear how many asylum applicants would be processed in the camps, or whether the EU will sanction the plan.
Hungary has repeatedly clashed with the EU over its migration policy, including its decision to erect a fence on its Serbian border and its refusal to accept EU-wide asylum quotas.
Kovcs said he expected a further clash with Brussels over the new asylum plan, but insisted the current arrangements were being abused systematically, since asylum applicants were currently free to move while waiting for the appeal of a rejected application. He said many on appeal absconded to other countries such as Germany and the UK . If we maintain the existing regime, we are not able to control what is happening at the borders or within Europe, he added.
Kovcs said that although the applicants would not be be allowed to move freely in the country, the camps should not be described as detention centres.
We do not have a proper term yet for it that is the challenge task to formulate. It is not about detention, it is about not giving the same opportunity for them as provided to European citizens. Do not be mistaken. There is a systematic abuse of that within Europe. The name of the game today is illegal migration. Everybody who comes to the EU as a migrant basically comes here illegally.
He claimed that over the weekend Hungarian officials had arrested 100 asylum seekers who were in the country illegally.
The conditions in existing Hungarian refugee camps have been severely criticised by human rights groups such as Amnesty International, but Kovcs said access to the revised detention centres could not be provided to the media under EU rules.
He promised the shelters would provide food and education for children, including unaccompanied children, saying: The shelters will meet all the required EU standards.
Kovcs said Hungary will use all means at our disposal to check identity and have a very thorough investigation of each and every case. In line with international law, we do not believe just because someone comes from Syria and there is a civil war, it should entitle groups of people to come to the European Union, especially as they will have crossed many safe countries on the way.
Hungary has set up border fences with Serbia and plans to employ between 6,000 to 8,000 border guards to apprehend those coming through the fence.
Kovcs claimed the EU summit in Malta was a turning point, and said the EU was taking up proposals put forward by Hungary in 2015.
He said when Orbn had proposed hotspots and camps be set up in north Africa, he had been denounced as a provocateur, but now his proposals were on the agenda of the EU. What was denounced as utopian or insane is now starting to rule the agenda.
With Orbn slated as one of the first European Union leaders likely to meet Trump when he comes to Europe for a Nato summit in May, Kovcs added: We believe a change of perspective in the US helped others to respect the Hungarian position.
Read more: http://www.theguardian.com/us