news
It's Christmas! The best festive songs, chosen by Slade, Neil Diamond, the Waitresses and more
By
|
Slade, Loretta Lynn, Run-DMC and Mike Batt have given us some all-time Christmas classics. But whats the one Christmas song they couldnt get through the holidays without? They and other festive hitmakers give us their picks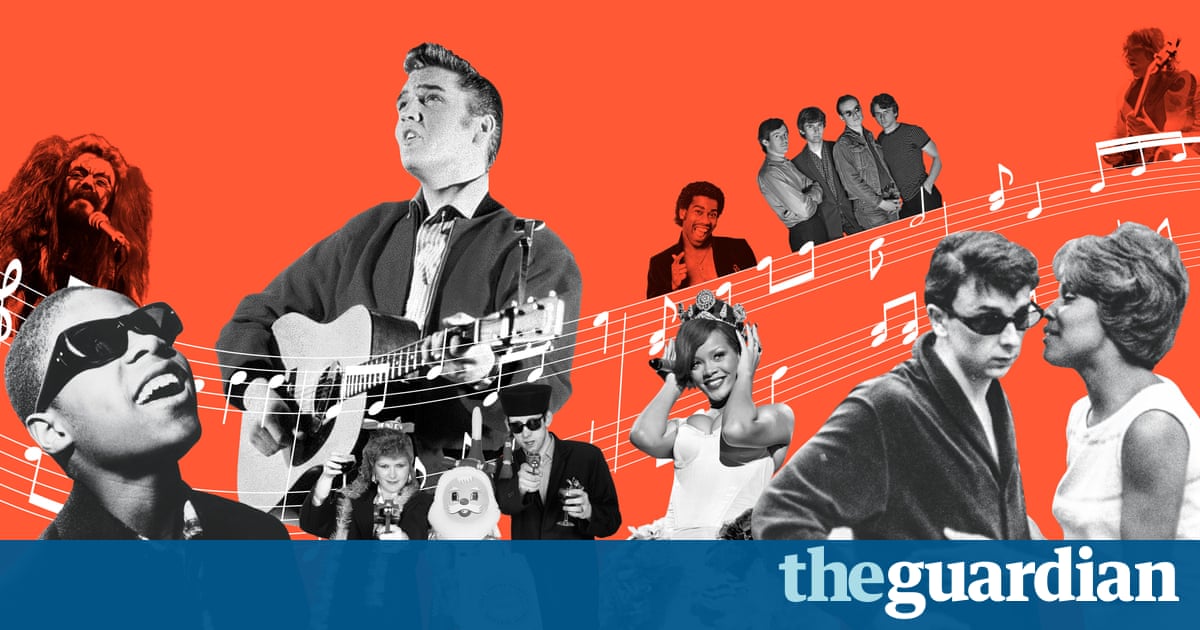 Wizzard I Wish It Could Be Christmas Every Day (1973)
Chosen by Jim Lea of Slade, whose 1973 single Merry Xmas Everybody is the definitive Christmas hit
I knew Merry Xmas Everybody was going to be massive, but I was mortified when I found out that everyone else was bringing Christmas songs out as well. Iheard Eltons one, Step Into Christmas, but I thought: No competition. Then I heard Roy Wood and Wizzards and the competition had arrived. I Wish It Could Be Christmas Every Day is like a Phil Spector wall of sound, with everything on it, even a childrens choir. When I first heard it, it was so good that I remember joking: I hope Roy gets run over by a bus. We found out wed gone straight to No 1 when we were on the Lift Off With Ayshea TV show, hosted by Roys girlfriend, Ayshea Brough. Wizzard had gone in at No 4. Soon afterwards, we were at a party at [Slade guitarist] Dave Hills neighbours and Roy was there. Eventually, he held out his hand and said: Put it there, the best man won. We were still shaking hands when I looked up at him and said: Do you know what, Roy? I prefer your record.
Also chosen by Showaddywaddys Dave Bartram, who spent Christmas 1974 singingHey Mr Christmas
Making Christmas records was cool and fashionable in the 70s, and theyre all still being played today. As soon as I Wish It Could Be Christmas Every Day comes on, you think: Its Christmas. It makes me feel like a kid its so uplifting, with that vibe of: This is totally over the top and were enjoying ourselves, which is just what Christmas should be. I know Woody and hes a really nice bloke, a lovable guy. We both called our daughters Holly, but his is Holly Wood. The sentiment of this song makes me laugh as well. I remember him saying to me, early in his career: You know, Dave, this songwriting lark is magic. I got home the other day and there was a cheque for 64 grand. That day was definitely Christmas.
Phil Spector A Christmas Gift forYou (1963)
Chosen by Neil Diamond, who released two best-selling volumes of The Christmas Album in the 90s, and whose Acoustic Christmas album is out now
A Christmas Gift for You has many of my favourite songs, sung by some of my favourite singers of the time, such as Darlene Love, the Ronettes and the Crystals. They are all up-tempo songs, and I like that. My favourites are Sleigh Ride, Winter Wonderland, Marshmallow World and Frosty the Snowman. I didnt work with Phil, but I met him a couple of times. It was as close to being next to a genius as I had ever been. His records were all great and original, and this one brings back memories. It was the early, first blush of innocent rocknroll music that I can remember and it was produced by the big kahuna producer of the time. Everybody knew about it in Tin Pan Alley, where the heart of the music business was beating and where I heard it first. It was a happy time for me. I had just got married and, although I hadnt yet had my own hits, I heard and interpreted this album as a fan and not as someone inside the world of music. As a struggling songwriter, I fell in love with it. Now, it brings back all the memories of the hungry songwriter living off his dreams, and what great records could and should sound like. My love for Christmas music began when we sang in high school. Because I am Jewish, I never was allowed to celebrate Christmas until I moved out and got married. Ive had Christmas trees ever since. To make a great Christmas record, you have to love the music, and feel the warmth and passion of the songs.
Chosen by Jona Lewie, who brought us the perennial Stop the Cavalry
When this came out in 1957, the archetype for Christmas songs was Bing Crosbys White Christmas. But this is raw and wild, about women, sex and cars. Elvis was just being natural, but it was seen as rebellious and probably sounded like an assault on the pop establishment. I would have heard it around 1960 and it bowled me over, because it was the real Elvis, like on the Sun Records cuts. It has great right-hand blues piano and a rough edge, with great humour. Elviss Santa arrives not with Rudolph the reindeer, but in a big black Cadillac, outraging white, churchgoing middle America. He comes down the chimney and says to the woman in the house: Turn off the light. Because in 1957 they did it in the dark. Its almost been forgotten, but Elvis was truly dangerous.
Kurtis Blow Christmas Rappin (1979)
Chosen by Darryl McDaniels (DMC) of Run-DMC, who celebrated Christmas in Hollis
I heard this at Runs house when his older brother, Russell, was our manager as well as Kurtis Blows, so we heard all his songs before they came out. Kurt was the first to have a dope-ass hip-hop Christmas song. At the time, Christmas Rappin was confined to our then relatively small hip-hop world, but eventually became huge. This is so creative and clever, and so funky, that it transformed into a universal breakbeat that MCs would use at live performances. Plus the bassline is tremendous. This is actually one of Kurts greatest performances. His lyrics are incredible: A red-suited dude with a frilly attitude / And a sleigh full of goodies for the people on the block / Got a long white beard, maybe looks kind of weird / If you ever see it, it will give you quite a shock. That flow is def.
The Waitresses Christmas Wrapping (1982)
Chosen by Midge Ure, co-writer of Band Aids Do They Know Its Christmas?, the UKs biggest-selling Christmas record
Christmas Wrapping is one of those Christmas tunes that tells a story. The girl is on her own making a Christmas dinner and she forgets cranberries, so she goes to the all-night supermarket and bumps into some guy she has fancied for ages and hes looking for something. Its a lovely little tale, but I love the madness of the tune itself. Its all over the place, but theres something really joyous about it. While you might hear Slade or Wizzard 100 times over Christmas, you might hear the Waitresses once, but it has become a slightly more selective Christmas standard. Its not a contrived Christmas song at all. Theres this mad, syncopated brass riff that almost sounds as if its from another record, and a bass part that sounds if someones tied the bass players fingers together. The oddness makes it great.
Chosen by the Waitresses Chris Butler
Im a raging XTC fan, but I love Thanks for Christmas because its a new wave, punky group doing a Christmas song, yet its absolutely not a toss-off or a spoof. They were in their prime, playing and singing brilliantly, and the chord changes are sensational. Its so well-crafted. Our record, Christmas Wrapping, has got that New York snotty attitude, which gets its comeuppance in the end, but this is totally sincere from start to finish, which is very endearing. The Three Wise Men is a great pseudonym, and they even kept the joke going, listing the writers credits using the biblical names Kaspar, Melchior and Balthazar. It wasnt a hit, but it certainly warmed my heart and those of other XTC nerds around the world. If I had one Christmas wish, it would be for Andy Partridge to get the band back together.
Chosen by Chris Rea, singer of Driving Home for Christmas, the only Christmas hit about going to Middlesbrough
The song is based on an argument in a drunk tank, and I used to see all that when my dad had a coffee bar next to the unemployment exchange. I worked there, standing in a drip-dry white coat with a picture of a little Italian man and Mr REAlly Good written on the pocket. I was a sitting duck. I must have had my nose broken 10 times. One Christmas, there was so much mayhem, it was like Beirut. Im also half-Irish, so I like the tune. It gets to me, and Kirsty MacColl was just fantastic. Really feisty. I met her loads of times, bless her. I once did a TV show in Hamburg with the Pogues and we were all on the same flight back, and when you did TV on weekends in Europe it was just one big party. Shane MacGowan was in duty-free. He hadnt been to bed and he had no money, so he asked me to lend him the cash for a bottle of Harveys Bristol Cream. I bought it for him and he downed it straight away, the whole lot. He said: Oh, I was ever so thirsty.
Chosen by Saint Etiennes Bob Stanley, whose 1993 Christmas single declared, truthfully, I Was Born on Christmas Day
Given that its my birthday, Im probably a bigger fan of Christmas songs than most, but Elvis is the king of them. I first heard this in Japan, in a coffee shop that had a mocked-up American radio station playing Christmas songs on a loop. I loved it straight away and searched it out when I got home. Its on his 1972 Christmas album, which normally gets sniffy write ups. Never trust the critics. It was written by Tony Macaulay, who had a hand in dozens of British hits Build Me Up Buttercup, Love Grows Where My Rosemary Goes but nothing as moving as this. In the song, Elvis is away from home, as he frequently would have been in 1972. I picture him driving back on a dark, empty highway, trying not to fall asleep at the wheel. Hes hoping to make it back to the family home its a festive equivalent to Wichita Lineman in a way and youre rooting for him. The key word in the title is if, but I know hes going to do it, in time to kiss the kids goodnight before midnight.
Darlene Love Christmas (Baby Please Come Home) (1963)
Chosen by Shakin Stevens, whose 1985 single Merry Christmas Everyone was recently voted the nations third-favourite festive No 1
I first heard this on the radio in the mid-60s and, when I purchased A Christmas Gift for You by Phil Spector, this was the track I couldnt stop playing. It has got that big Wall of Sound that everyone expects from Spector but, for me, is all about Loves gospel roots and powerful delivery. She has sung with the best, and sung lead on a lot of hits, uncredited. Shamefully, that meant she didnt get the breaks she deserved early on in her career, although recently she has started to be given the recognition she deserves. This didnt chart in the UK at the time, but you cant keep a good record down, and it has become a radio favourite. She puts so much pure energy into this performance that I cannot think of a more uplifting Christmas song. I dare anyone to put it on and not either sing along, or move to it.
Greg Lake I Believe in Father Christmas (1975)
Chosen by Mike Batt of the Wombles, who wished us a Wombling Merry Christmas
This was kept off No 1 by Queens Bohemian Rhapsody, but theres no shame in that. I love this song because of the sheer goodwill and warmth that comes from it. Greg Lake and Pete Sinfield, who wrote it, claimed it was an objection to the commercialisation of Christmas, but still about the joy of the season and the innocence of believing. Its beautifully produced: the opening acoustic guitar work adds a really strong, incessant beat underneath the tune, and theres not a sleigh bell to be heard. The strongest hook is a quotation of Prokofievs Troika, which adds a certain majesty and happiness. Apparently, that was Keith Emersons idea. Keith, who was a member of Emerson Lake & Palmer alongside Greg, was a really nice bloke and a fine musician, but my strongest memory of him was at a celebrity race at Brands Hatch where he shunted me up the back, writing off my car.
Also chosen by Andy Pickles of Jive Bunny and the Mastermixers, whose Spectacular Christmas Party album is an office-party staple
I love the Slade and Wizzard singles, and when we did the Jive Bunny record we had the pleasure of working with Noddy Holder and Roy Wood, who knocked on the studio door with crazy purple hair and pink glasses and ended up getting leathered with us after the recording. It was one of those brilliant, memorable moments with a legend, although some Christmas records can repel you as much as draw you in. Greg Lakes song is just beautifully written and has a wonderfully warm feeling of getting relaxed for the festivities, rather than jumping around sticking tinsel up your nose. You can picture the log fire, the familys there. Theres probably a thick jumper involved. Mike Batt has chosen it as well? Thats because were both creatures: a Womble and a rabbit.
Chosen by Greg Lake, who believed inFather Christmas. Lake died on 7December this year.
My father idolised Bing Crosby and tried to teach me all his songs, which was probably my introduction to singing. At Christmas, Crosbys interpretation of this evergreen classic reigned supreme. It doesnt make any mention of a religious persuasion only to childhood recollections of the warmth, beauty and charm of the event itself. So when Pete Sinfield and I wrote I Believe in Father Christmas, it was about how Christmas had deteriorated and was in danger of becoming yet another victim of crass, corporate financial exploitation. As much as I love everyone having a good time, its about more than 12 pints of lager and a crate of Baileys. Its more important to make some spiritual, human contact, or visit someone lonely. We never had any commercial or financial intentions but, of course, now everyone wants to know how it feels to receive all the lovely royalties, which are apparently delivered by wheelbarrow by Santa himself after a long day climbing down everybodys chimneys.
Also chosen by Elmo Shropshire of Elmo and Patsy, whose Grandma Got Run Over By a Reindeer has the unique honour of being voted the USs best-loved and most-disliked Christmas song
In 1950, when I was 14-years-old, I lived on a farm in Kentucky with my parents and older brother, Johnny. On Christmas Eve, a snow storm dumped 5ft of snow. It was 27 degrees below zero and we needed food. Our family car was frozen. The roads were covered with snow. I hitched my black-and-tan coonhound, Luke, to my sled and we went through heavy snow for miles to a store, which was the only way I could get there. When I returned, I went into the parlour where the Christmas tree was. It was so cold that even the dog was welcomed into the house. We gathered around the radio, and thats when I first heard White Christmas. It was a white Christmas, we were cosy and it was bright. It is a wonderful nostalgic time and every time I hear the song, I remember that evening and it brings back warm memories of my parents who, unbeknownst to us, would lose their lives four short years later in a car accident. Id never have imagined that, 33 years later, I would sing a Christmas song that, for three years, was even more popular than Bing Crosbys classic. Im inclined to think it had little to do with my singing voice.
Chosen by Alan Sparhawk of Low, whose 1999 EP, Christmas, is a classic. Their latest festive single, Some Hearts (at Christmas Time), is out now.
At some point, usually a day or two before Christmas, a song will hit me like a snowball in the face. Often, its afamiliar song heard anew somehow: Iremember realising the power and technical transcendence of O Holy Night, the childhood spookiness of Youre a Mean One, Mr Grinch, and the funky pure heart of James Brown in Santa Claus Go Straight to the Ghetto. Last year, again without looking, Someday at Christmas found me. From the first chiming, descending melody, you know what its about and, when Stevie comes in singing, you feel like you have been standing listening to him for ever. A trusted beautiful friend, pleading, hoping, calling out mankind and its childish tendencies to war, while still lifting us to be as a little child in meekness and love. Hope like this is rare, precious and powerful. He is asking us to not fear, but to dream and work toward a better world, all to the tune of a melody that seems as timeless as love itself.
Chosen by Loretta Lynn. The legendary Coal Miners Daughter recorded her first Christmas album, Country Christmas, half a century ago. Her second, White Christmas Blue, is out now.
My favourite Christmas song is White Christmas. What a great voice Bing Crosby had. The song also appears on Elviss Christmas Album, my favourite Christmas record, which also has family associations. When my twins were little, they would sing Blue Christmas in theirbest Elvis impersonation. What awonderful memory. I love walking down memory lane, and Christmas music takes you there. In 1966, Country Christmas described how it was for myself and my family when I grew up in eastern Kentucky in the Appalachian mountains. Times were hard. There was no such thing as a big Christmas for us eight kids, but Daddy would always cut us a little Christmas tree outof the woods and myself and my brothers, Herman and Junior, would decorate it with popcorn and pinecones. We didnt get presents, but always had a good meal, and always said thanks for what we did have. This year, I wanted to record a new Christmas album for my grandbabies, and Im so glad I got to make another Christmas record 50 years later. Aint that something?
Chosen by Maizie Williams of Boney M, whose 1978 Christmas No 1 Marys Boy Child is the 10th best-selling British single of all time
I really enjoy Christmas and all the music that comes with it. My absolute favourites are The First Noel by Johnny Mathis, Louis Armstrongs version of White Christmas and Santa Baby by Eartha Kitt. When I was growing up, these songs used to be played by my late mother, especially when she was in the kitchen and us kids were running around, playing. As I dont visit Montserrat [where Williams was born] much these days, these songs have a special place in my heart and listening to them makes me feel at home. I really enjoy the memories they bring. Christmas in Montserrat was like everybody elses the family would get together, cook and dance. The big difference was that it was beaming sunshine: there was never a snowflake in sight. However, the song that is closest to my heart is much more recent. I love the lyrics of AChild Is Born: Rihanna is singing about the birth of Jesus. I am very spiritual and have always felt close to God and his powers to make this world great. I feel connected to Rihanna, as she is also a girl from a small Caribbean island, just like me.
Chosen by Martha Wainwright, who sang on The McGarrigle Christmas Hour (2005) by Kate and Anna McGarrigle her mother and aunt respectively and performs in the annual Noel Nights shows with her brother, Rufus
I like Christmas things that are a bit sad, and I respond most to the old English carols that have a lot to do with winter time. This one was brought to my attention, sadly, by my mother when we did the Royal Albert Hall Christmas show in 2009. She was in the last few weeks of her life, and was practising that song over and over again. It may have been the medication or the cancer making her muddled, but my mother, my brother and myself sang it over andover. Ive thought about this a lot the concept of the bleak midwinter, and her death, and come to realise thatshe probably never wanted it to end. Now, whenever Rufus and I do our Christmas shows, its the top of ourlist of songs. Our Christmas is more about gospel music and requiems rather than pop, but I also love Bob Dylans crazy Christmas record Must Be Santa and can picture him there, really getting into it, in his Christmas hat.
Chosen by Rufus Wainwright, whose Spotlight on Christmas is a highlight of The McGarrigle Christmas Hour.
I love In the Bleak Midwinter, but Silent Night is the crown jewel of Christmas songs. Its the one that you hear or sing over and over again and it always has some kind of effect, even though you think youre sick of it. I feel as if I first heard it a thousand years ago when I was in the galaxy. My favourite is my version, of course, which I sing with my husband, so its personal. Otherwise itsMahalia Jacksons gospel version, which is so impressive and moving. Itsa very simple song with simple chords, although a minor key puts a flyin the ointment. The message is incredibly touching, because it must have to do with war: fighting and screaming and then finding peace. After the year weve all had, it will sound especially emotional, and Ill besinging it at our Christmas show inNashville.
Chosen by Kate Rusby, who has recorded three much-loved Christmas albums
David Myles is a Canadian guy who made an album called Its Christmas a couple of years ago. Someone sent me a link to the YouTube animation of this song and I just totally fell in love with it. My husband and my dad are both banjo players, so it connected. Its quirky and funny, with a bluegrass twang, and tells the story of a young boy, probably Myles, who never gets the requested banjo, every year. And I never knew the reason why. Every Christmas I see it in my dreams, and every Christmas morning I cry. In the song, we never hear whether he finally gets one, but in the animation theres one from Santa right at the very end, with a little note saying: Not too loud.
Chosen by Cara Dillon, who has just released her Christmas album, Upon aWinters Night
This Prokofiev piece sums up Christmas for me. Ive listened to it on tour, when Ive been flying home to Belfast, and now the children have got into it, and as soon as they hear it they know its Christmas. The tune has everything that sums up the mystery and magic of the festive season. Its very dramatic, and sounds like youre on a sleigh riding across the sky. The music builds up, brings you back down and then gets going again. Im not one for putting on Mariah Carey or all the different versions of Jingle Bells. When I recorded my Christmas album, in July, it was so hot that the band recorded in their pants, so we had this blasting out to get us feeling festive.
Chosen by Kacey Musgraves, who brings a Nashville twist to Yuletide with her new album, A Very Kacey Christmas
I like anything that Bing Crosby does, and one of my favourites is his version of this Hawaiian Christmas song with the Andrews Sisters. He was one of the first people to record the song, but lots of people have done it since and I feel as if its always been in the background of whatever Ive been doing. As has White Christmas. I have always been inspired by traditional Hawaiian pedal steel and lap steel, and the way it coincides with western swing, which is what I grew up singing. Theres a nice world where those two meet, especially in a Christmas way. The title means Merry Christmas in Hawaiian. Ive noidea how Bing Crosby ended up recording it. He was from Washington.
Read more: https://www.theguardian.com/music/2016/dec/22/its-christmas-best-festive-songs-chosen-slade-neil-diamond