news
Judge in Stanford sexual assault trial removes himself from all criminal cases
By
|
Judge Aaron Persky, who has been accused of repeatedly failing to hold men accountable for sexual violence against women, has asked to be reassigned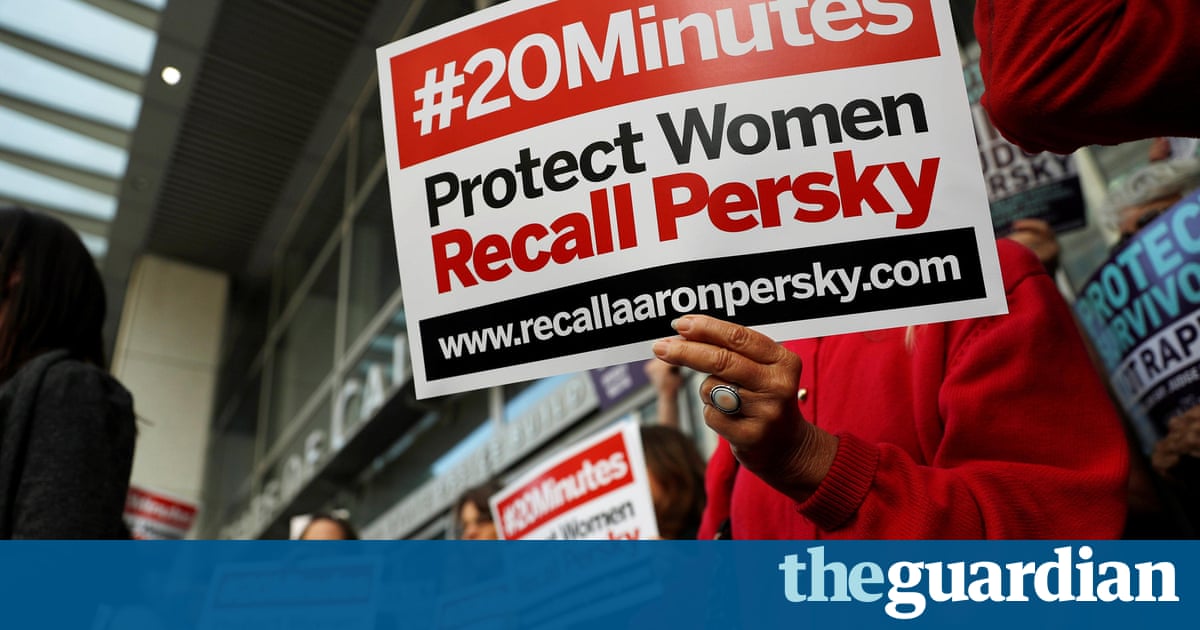 The embattled judge in the Stanford sexual assault trial is removing himself from all criminal cases, marking a victory for opponents who have called for him to be ousted after he gave a controversially light sentence to former student Brock Turner.
Aaron Persky, who faced a high-profile recall campaign after the case, has now requested to be reassigned to the civil division in Santa Clara County superior court, officials announced late Thursday.
The move comes after intense scrutiny from critics who allege Persky has repeatedly failed to hold men accountable for sex offenses and violent crimes against vulnerable women.
Ris Jones Pichon, the countys presiding judge, said in a statement: Judge Perky believes the change will aid the public and the court by reducing the distractions that threaten to interfere with his ability to effectively discharge the duties of his current criminal assignment.
Pichon added: While I firmly believe in Judge Perskys ability to serve in his current assignment, he has requested to be assigned to the civil division, in which he previously served.
Persky received widespread scorn in June after he sentenced Turner to six months in county jail a punishment significantly lighter than the minimum two years prescribed by California state law for his felony offenses.
A jury had convicted Turner of multiple charges after he sexually assaulted an unconscious woman outside a fraternity party by a dumpster in 2015. Advocates and students said the punishment was not severe enough and claimed that Persky a former Stanford athlete himself was sympathetic to the former swimmer.
After the Stanford victims powerful statement on rape culture went viral, a university law professor, Michele Landis Dauber, launched a campaign to recall him from office. On Thursday, Dauber said the campaign would continue.
This doesnt change anything for us. Were pleased that Judge Persky wont be handling criminal matters at least temporarily, she said. Of course, he can transfer back to hearing criminal matters at any time.
Since the Stanford case received international headlines, the campaign and other critics have raised questions about a number of Perskys past and ongoing cases.
The recall campaign argued that he has also been unreasonably lenient to domestic abusers and that other sexual assault cases suggest that he is biased toward privileged defendants.
After recent news reports that he had given a four-day sentence to a defendant who possessed child abuse images, Persky took the unusual step of recusing himself from the case which had been scheduled for a hearing later in August 2016. The judge cited the publicity surrounding the case when announcing his decision to step down.
Shortly after the Stanford sentencing, the district attorneys office removed the judge from a case involving a male nurse who allegedly sexually assaulted an anesthetized female patient. Prosecutors said they lacked confidence in him.
Perskys supporters, including local public defenders, have argued that the judge has been consistently fair to defendants and that he focuses on rehabilitation opportunities as opposed to excessive prison time.
In the sudden reassignment to civil court, Persky will be swapping positions with another judge who requested to be transferred to the court in Palo Alto where Persky currently presides, officials said.
Dauber, who is a family friend of the Stanford victim, argued that voters still deserved an opportunity to recall Persky, noting that he faced criticisms for his handling of a 2011 sexual assault case in civil court. Bias is just as problematic in civil matters, she said.
Persky, who could not immediately be reached for comment, will start hearing civil cases in a San Jose courthouse on 6 September.