news
London squatters occupying 15m mansion in standoff with bailiffs
By
|
Activists barricaded inside Belgravia building owned by Russian oligarch Andrey Goncharenko after dawn raid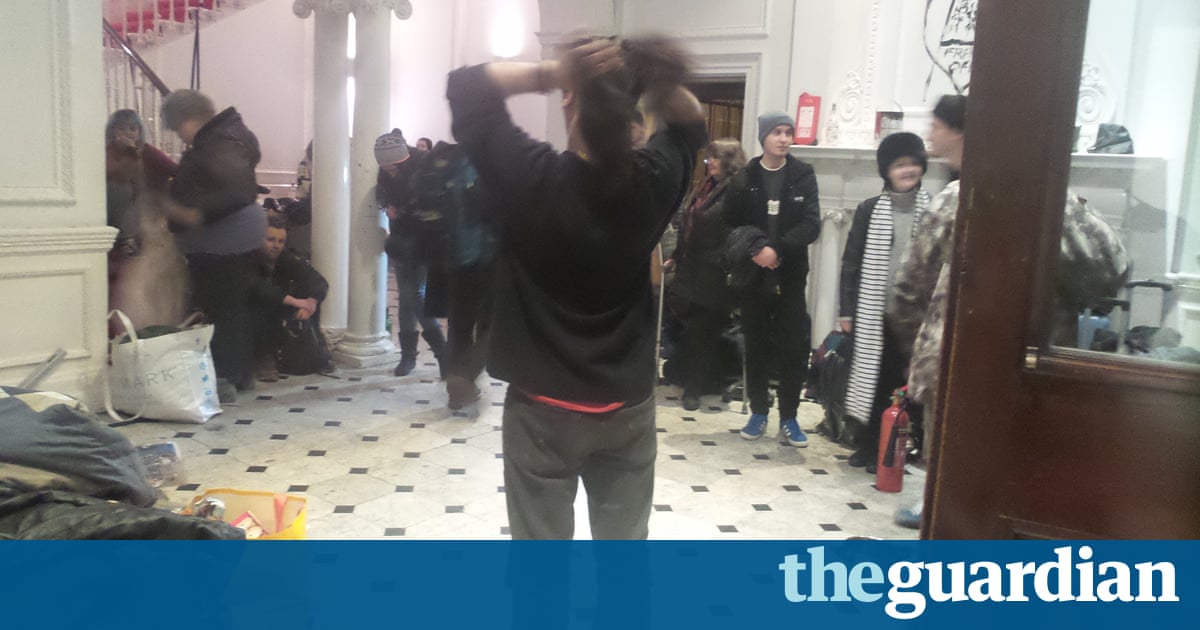 Squatters occupying a 15m mansion in Londons exclusive Belgravia neighbourhood are engaged in standoff with bailiffs sent to evict them in a dawn raid on Wednesday morning.
About 30 squatters, including several anarchist activists, barricaded themselves inside the five-storey house in Eaton Square, as bailiffs surrounded the building.
Activists inside the building from the Autonomous Nation of Anarchist Libertarians (known by the acronym Anal) said some of the bailiffs tried to get on to the roof of the house after arriving at about 6am with an eviction notice.
They have been occupying the house, which belongs to the Russian oligarch Andrey Goncharenko, for more than a week.
One activist, called Daniel, said: I think this is going to take some time. We have had a very good relationship with our neighbours. Some of them are embassies so I dont think the bailiffs will want to cause a scene in an area like this. Theres a bit of a cat and mouse game going on here.
He added: Were all packed up and standing in the hallway.
Activists said about 15 bailiffs, accompanied by police, had surrounded the building.
A judge at Central London county courth ordered the eviction on Tuesday.
Goncharenkos company, MCA Shipping, is registered at the same address in Gibraltar as Redmount Group, which describes itself as a management services company offering individuals and companies the opportunity to use advantageous jurisdictions for personal and corporate planning.
The Redmount Group is one of the offshore companies named in the Panama Papers. Tim Lewis, who is registered as a director of both Redmount Group and MCA Shipping Ltd, provided a detailed witness statement to the court about the squatters occupation of Eaton Square, on behalf of MCA Shipping Ltd.
The judge agreed to listen to the squatters representations despite having concluded the hearing. But he rejected their request for an adjournment to give them more time to seek legal advice and was not persuaded to agree to their request to set aside the order, finding them guilty of trespass.
Thats squatting in colloquial terms, the judge said. He also rejected the squatters request for permission to appeal.
Since the squatters arrived at 102 Eaton Place they have provided food and clothing to homeless people as well as hosting film nights and talks on issues such as the large numbers of empty buildings in London and the growing toll of homelessness.
On Saturday, the squatters were attacked by a violent group who hurled bricks, bottles and poles through the windows.
MCA Shipping Ltds solicitors, London-based Pemberton Greenish, declined to comment on the proceedings or on any connection between Lewis and the Panama Papers.
Read more: http://www.theguardian.com/us