entertainment
London's best afternoon teas: From fancy hotels to double-decker buses
By
|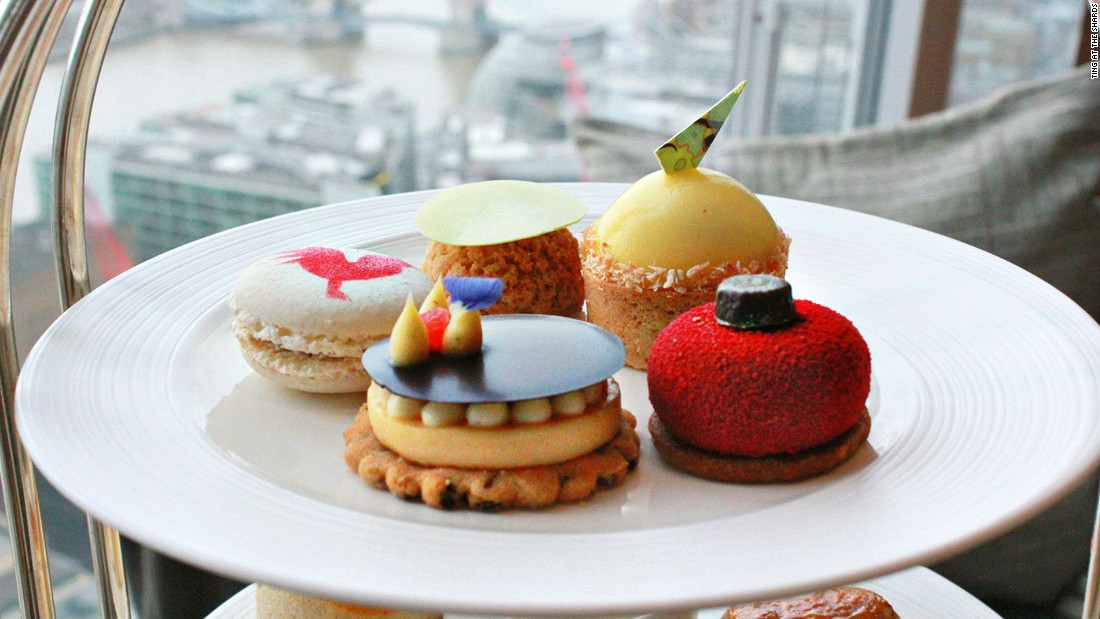 (CNN)Fancy an afternoon tea while in the British capital?
There's no better place to try this English tradition than in London, which serves up some of the world's most well-regarded versions.
Reputedly spawned when an English duchess made a simple request for cake and tea before dinner time in the mid-1800's, afternoon tea has since become a more decadent occasion.
Plush baked scones, assorted finger sandwiches and desserts with a generous pot of tea is now the modern standard.
While London's traditional luxury offerings could easily monopolize this list, we've included quirky, novel options for those seeking teas with a twist, including one set on a vintage double-decker bus and a fanciful version inspired by Alice in Wonderland.
Fortnum & Mason
No one knows tea like
Fortnum & Mason
, London's premier tea and assorted goods emporium since 1707.
Visitors can sample their famous teas and much more in the airy, elegant Diamond Jubilee Tea Salon, which is often filled with music from a live pianist.
"Walking into the tea room felt as if I was walking onto a set for a BBC series set in the 19th Century," says
That Adventurer
blogger Hannah Kacary.
Tea sommeliers ask guests for taste preferences and recommend the perfect sip from an extensive menu.
Also on hand are traditional sommeliers who assist in champagne pairings.
Save room for dessert, however.
Fortnum's signature cake cart allows guests to choose a slice from a range of choices.
Best For: Ultimate tea lovers
Sketch
An immersive underground "bunker bar" that hosts the novel Squiffy Picnic on Saturday afternoons,
Cahoots
transports guests to post-WWII.
"We enjoyed our sandwiches, scones, treats and vintage goodies all served in wicker picnic baskets… we felt like we had stepped into a vintage wonderland," says Binny Shah of
Binny's Kitchen
.
Squiffy Picnic stretches the boundaries of the afternoon tea concept, as teacups are filled with hooch instead of Earl Grey, and entertainment comes from flirtatious singer Lois "Legs" Laurelle.
Those in particularly high spirits can go for the Hollow Legs, which provide bottomless booze, or a bottle of Moet & Chandon Champagne.
Worth noting that at entry — guests must request "the captain" before accessing this speakeasy, which is strictly for those 21 and older.
Best for: A swingin' good time
Claridge's
The five-star
Claridge's
Hotel has been serving luxury afternoon tea for more than 150 years, and its legacy is showing no signs of decline.
This prestigious offering takes place in the hotel's art-deco inspired foyer, designed by Thierry Despont, with a pianist and harpist transporting guests into the heyday of a glamorous, bygone era.
Among the selection of high-quality teas, menu items include scones with Marco Polo jelly and Cornish clotted cream, fingers sandwiches include corn fed chicken, Parmesan and lemon on malted bread.
Desserts such as the sour cherry gateaux are all served on Claridge's signature green-striped bone china.
Bookings need to be made well in advance for one of the city's most iconic teas.
Best for: Sheer elegance
Claridge's
, Brook St, Mayfair, London; +44 20 7629 8860
Brown's Hotel: Tea-Tox
Afternoon teas aren't exactly known for their nutritional value, but
Brown's
— London's first-ever hotel — offers a remedy with its Tea-Tox, a less-calorific alternative that doesn't sacrifice quality.
Tea in its cozy, classic English Tea Room starts with a detox juice of beetroot, ginger and kale. Starchy scones and finger sandwiches are replaced with seasonal fruits with dips and miso glazed salmon with radish on spinach bread.
Those with a sweet tooth are still looked after with desserts such as the gluten-free raspberry and pistachio brownie and coconut panna cotta with lemon curd.
Brown's Tea Tox is the best place to curb the carbs of tea without sacrificing the fun.
Best for: Health-conscious tea
Read more: http://edition.cnn.com/