news
Montrell Jackson, slain police officer: 'If you need a hug … I got you'
By
|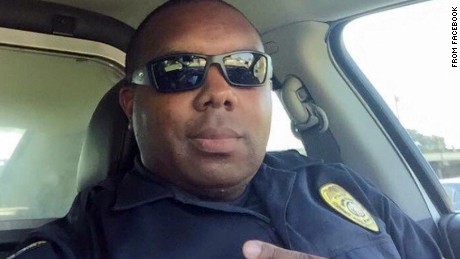 (CNN)Four days after the police-involved shooting of Alton Sterling turned his city upside down, Baton Rouge, Louisiana, Police officer Montrell Jackson issued a plea to the embattled community and vowed to do his part to help it heal.
"These are trying times. Please don't let hate infect your heart. This city MUST and WILL get better," the 32-year-old officer wrote in a July 8 Facebook post.
And, to all the protesters, officers, friends, family and neighbors in need of a hug or a prayer in Baton Rouge, he offered a promise: "I got you."
One week later, on Sunday, Jackson's life was cut short
in a shootout
that left three officers dead and three more injured, law enforcement said.
Jackson's aunt revealed his identity to CNN, simply saying "Today isn't going too well."
The East Baton Rouge Sheriff's office identified the other deceased as Officer Matthew Gerald and Brad Garafola. Of the other officers involved in the shooting, Nicholas Tullier of the Uniform Patrol Traffic division was shot and is in critical condition. Bruce Simmons, who also worked in the traffic division, sustained non-life threatening injuries, the Sheriff's office reported.
'No place for more violence'
As Baton Rouge reels from the events that sent tremors throughout their community, city officials expressed their condolences, and made a call for peace.
"An attack on one of us is an attack on all of us," Louisiana Gov. John Bel Edwards said Sunday. "Obviously our community is hurting, and only through peace can we heal, and that's going to take meaningful dialogue. There simply is no place for more violence."
"We are going to get through this and we are going to get through this together," Baton Rouge Chief of Police Carl Dabadie said at the same press conference. "This is not going to tarnish this city or this department. We are going to move forward."
Quinyetta McMillon, the mother of one of Sterling's son, Cameron, condemned the shootings.
"We reject violence of any kind directed at members of law enforcement or citizens." she said in a statement. "My hope is that one day soon we can come together and find solutions to the very important issues facing our nation rather than continuing to hurt one another."
Montrell Jackson
Deputy Brad Garafola, a married father of four, had been with the East Baton Rouge Sheriff's Office for 24 years, according to WAFB.
He was selected as the Civil Deputy of the Month in January 2013.
His brother Brett Garafola confirmed his death in a Facebook post, according to WAFB.
"Brad, I love you very much my brother. I respect and appreciate everything you did for us, this city, and your job to protect and serve," he wrote.