news
Theresa May is dragging the UK under. This time Scotland must cut the rope | George Monbiot
By
|
Britain is politically dead from the neck down. Leaving the union may be risky, but staying is worse
Here is the question the people of Scotland will face in the next independence referendum: when England falls out of the boat like a block of concrete, do you want your foot tied to it?
It would be foolish to deny that there are risks in leaving the United Kingdom. Scotlands economy is weak, not least because it has failed to wean itself off North Sea oil. There are major questions, not yet resolved, about the currency it would use; its trading relationship with the rump of the UK; and its association with the European Union, which its likely to try to rejoin.
But the risks of staying are as great or greater. Ministers are already trying to reconcile us to the possibility of falling out of the EU without a deal. If this happens, Britain would be the only one of the G20 nations without special access to EU trade a very destructive outcome leading to mutually assured damage for the EU and the UK, according to the Commons foreign affairs committee. As the government has a weak hand, an obsession with past glories and an apparent yearning for a heroic gesture of self-destruction, this is not an unlikely result.
On the eve of the first independence referendum, in September 2014, David Cameron exhorted the people of Scotland to ask themselves: Will my family and I truly be better off by going it alone? Will we really be more safe and secure? Thanks to his machinations, the probable answer is now: yes.
In admonishing Scotland for seeking to protect itself from this chaos, the government applies a simple rule: whatever you say about Britains relationship with Europe, say the opposite about Scotlands relationship with Britain.
In her speech to the Scottish Conservatives spring conference, Theresa May observed that one of the driving forces behind the unions creation was the remorseless logic that greater economic strength and security come from being united. She was talking about the UK, but the same remorseless logic applies to the EU. In this case, however, she believes that our strength and security will be enhanced by leaving. Politics is not a game, and government is not a platform from which to pursue constitutional obsessions, she stormed to which you can only assent.
A Conservative member of the Scottish parliament, Jamie Greene, complains that a new referendum would force people to vote blind on the biggest political decision a country could face. That is utterly irresponsible. This reminds me of something, but I cant quite put my finger on it.
Before the last Scottish referendum, when the polls suggested that Scotland might choose independence, Boris Johnson, then London mayor, warned that we are on the verge of an utter catastrophe for this country No one has thought any of this through. Now, as foreign secretary, he assures us that we would be perfectly OK if Britain leaves the EU without a deal.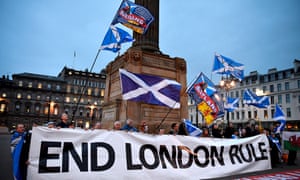 Read more: http://www.theguardian.com/us