sports
'This is your night': Conlan's dream debut wipes out nightmares of the past
By
|
Irishmans third-round knockout of Tim Ibarra, amid all the trappings of a major bout, means he can now make headlines for the right reasons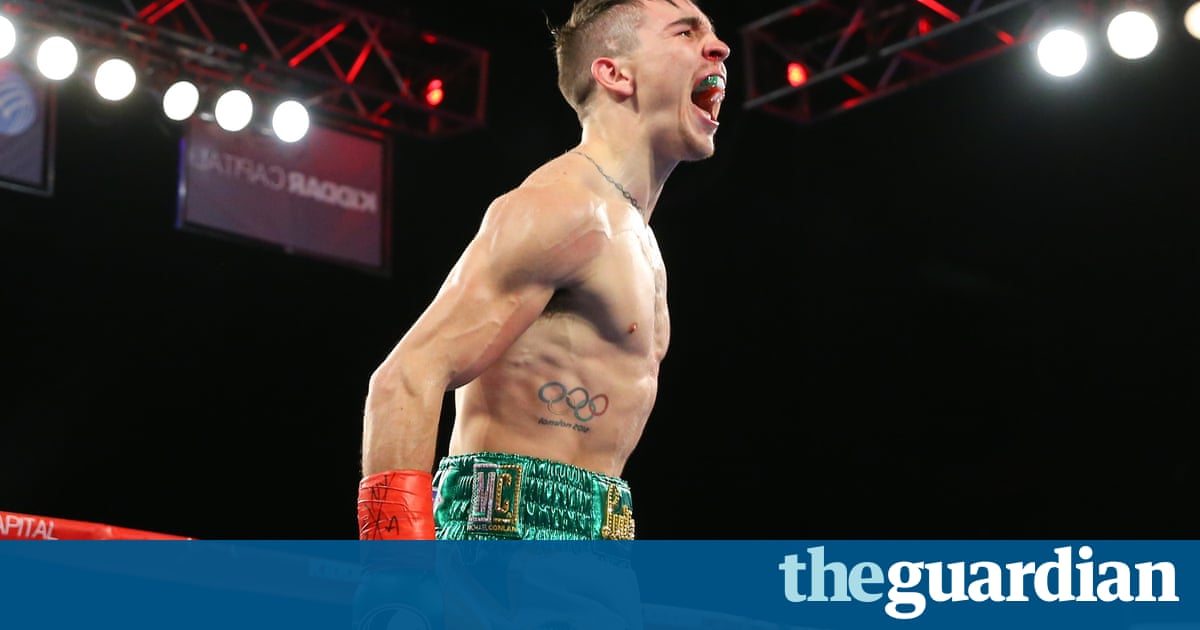 With a dream of a professional debut on Friday night in New York, Michael Conlan all but erased the nightmarish end that befell his decorated amateur career at the Rio Olympics eight months ago.
The Belfast fighter broke his maiden with a third-round TKO of Tim Ibarra in a junior featherweight tilt slated for six rounds before a sold-out crowd of 5,102 at the Theater at Madison Square Garden.
A fighters pro debut is typically a celebratory yet unremarkable affair. Not Friday night. Conlans first paying fight in the main event of a Top Rank card took place amid the atmosphere and trappings of a major bout: complete with prestige ring announcer Michael Buffer, Irish dancers performing in the ring before his entrance and a buzzing, well-lubricated St Patricks Day crowd that packed the room to the corners. He was accompanied on his ringwalk by UFC champion Conor McGregor, his friend and countryman, who had told him in the locker room: Relax, let it come to you. This is your night. Sage advice, as it were.
Conlan, 25, appeared a bit overanxious from the opening bell, loading up on his punches and missing his target more often than not, sometimes wildly. When he connected with an overhand right followed by a left, it took the crowd into hysterics. Use the jab! barked McGregor from ringside. Just the jab! Just the jab!
The Irishman dialed it back in the second and began concentrating on the body, though the overly timid Ibarra wasnt exactly returning with hellfire. Then came the third, when Conlan immediately started bullying his overmatched opponent against the ropes and opening fire, leaving Ibarra practically frozen in the face of the onslaught. After a particularly vicious right hand landed flush, referee Benjy Esteves Jr had seen enough, putting a stop to it at the 0:59 mark.
It was a debut you couldnt even dream of, Conlan said. I was relaxed coming to the ring but then you want to impress and perform. I didnt think I performed that well but who has a debut like this and has this much pressure on them? It was like nothing I ever experienced before. I am happy with how things went.
Matthew Macklin, the former middleweight contender who manages Conlan, was happy that his charge was able to settle down.
He was too eager at first, said the three-times world title challenger, who this week said he believed Conlan could be the greatest Irish boxer of all time. He had a lot of pressure on his shoulders. Once he got it together, he got it done.
Added McGregor: The biggest thing is the win. It doesnt matter how you get there, but you must win.
Top Rank, like Macklin, believe they have a star in Conlan, who won gold at 123lbs at the 2015 world amateur championships and a bronze medal at 114lbs at the London Olympics but made international headlines after winding up on the wrong end of a widely disputed decision in the bantamweight quarterfinals in Rio and giving double middle fingers to the judges while still in the ring.
The promoter is hopeful Fridays show will be the first of many St Patricks Day cards headlined by Conlan, whom they hope to build into a consistent Madison Square Garden attraction in the mold of Miguel Cotto. It is the biggest push any Olympian has received in the United States since Oscar De La Hoya in 1992.
McGregor, who is said to have been in initial talks to fight Floyd Mayweather, had initially deferred the spotlight to Conlan. But he couldnt resist a chance to prod the boxing media on the press row in the immediate aftermath, many of whom had traveled great distances in advance of Saturdays middleweight title unification fight between Gennady Golovkin and Daniel Jacobs in the big room next door.
I am boxing! he bellowed toward the press section. Watch me take over boxing, trust me on that. No one in this boxing game knows whats coming. Trust me on that. Im going to step in there and shock the whole goddamn world. Trust me on that.
Look me in the eyes, 28 years of age, confident as a motherfucker. Long, rangy, dangerous with every hand. Trust me, Im going to stop Floyd. Youre all going to eat your words. The whole world is going to eat their words. Its getting close. Dont worry about it. Youll hear about it. Im out of here.
Read more: http://www.theguardian.com/us