news
Trump accuses China of being 'grand champions' of currency manipulation
By
|
US president risks ratcheting up tensions with Beijing with latest currency claims and repetition of desire for nuclear supremacy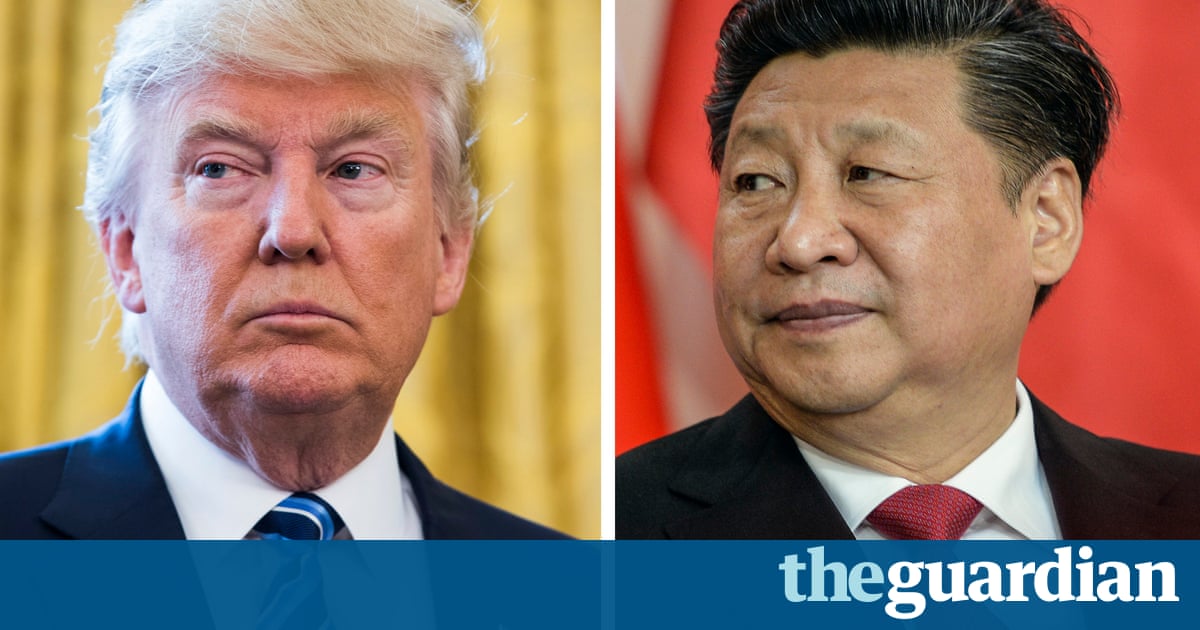 Donald Trump has risked reigniting a simmering feud with Beijing after accusing China of being the grand champions of currency manipulation.
After months of turbulence and uncertainty between the worlds two largest economies, relations appeared to settle two weeks ago after the US president and his Chinese counterpart Xi Jinping held their first telephone conversation since the billionaires inauguration.
However, in an interview with Reuters on Thursday that also saw Trump reiterate his desire for US nuclear supremacy, the US president, who has attacked China over trade, Taiwan, North Korea and the South China Sea, threatened to undermine the tentative rapprochement with his latest verbal assault against Beijing.
I think theyre grand champions at manipulation of currency. So I havent held back. Well see what happens, Trump said.
The presidents comments were reported just hours after the incoming treasury secretary, Steven Mnuchin, made apparently contradictory remarks signalling that the White House had no immediate plans to label China a currency manipulator something Trump had pledged to do on his first day in office.
Beijing offered no immediate official reaction to Trumps comments but Chinese scholars expressed frustration at the presidents allegation. He has such a big mouth. What can we do about itLet him talk, said Zhu Feng, a professor of international relations at Nanjing University.
Economists both within and outside China reject Trumps claim repeatedly aired during his campaign that China is guilty of purposefully forcing down the value of its currency, the renminbi or yuan, in order to boost its own exporters and hamstring US manufacturers.
The logic of Trumps claim is that he believes other countries keep their currencies artificially cheap to increase their exports to the US. [But] as a matter of fact, the Chinese yuan has seen a 13% devaluation since last year, Zhu said, pointing out that Trump had previously also accused South Korea and Japan or manipulating their currencies.
Christopher Balding, a Peking University finance professor, said: China is clearly manipulating its currency, theres no two ways about it. But at this point they are essentially propping up the value of their currency rather than manipulating it lower to gain an unfair trade advantage.
To some degree Trump is correct, that of any major economy they probably are the grand champions of currency manipulation, he added.
But we need to very clearly distinguish between manipulating a currency to gain an unfair trade advantage which they were pretty clearly doing maybe a decade to five years ago but they are clearly not doing that these days and propping up the currency.
Over the past year, Chinas central bank has spent billions of dollars in foreign exchange reserves in the past year to shore up the yuan to counter capital outflows, Reuters reported.
Experts believe Beijing will react cautiously to Trumps latest attack so as not to further inflame the situation.
I think theyre handling it actually, very, very well, said Balding. Theyve learned to manage the situation so that when Trump says something crazy or tweets out something crazy they take the high road and they let it blow over They havent taken the bait.
Trump also told Reuters that he wants the US to expand its nuclear arsenal, in his first comments on the issue since taking office.
I am the first one that would like to see everybody nobody have nukes, but were never going to fall behind any country even if its a friendly country. Were never going to fall behind on nuclear power.
It would be wonderful, a dream would be that no country would have nukes, but if countries are going to have nukes, were going to be at the top of the pack.
In statement, the Arms Control Association said Trumps position was misguided: Mr Trumps comments suggest, once again, that he is ill-informed about nuclear weapons and has a poor understanding of the unique dangers of nuclear weapons.
The history of the cold war shows us that no one comes out on top of the pack of an arms race and nuclear brinksmanship.
Additional reporting by Wang Zhen
Read more: http://www.theguardian.com/us