entertainment
Trump vs. Hollywood: Who's really 'the elite?'
By
|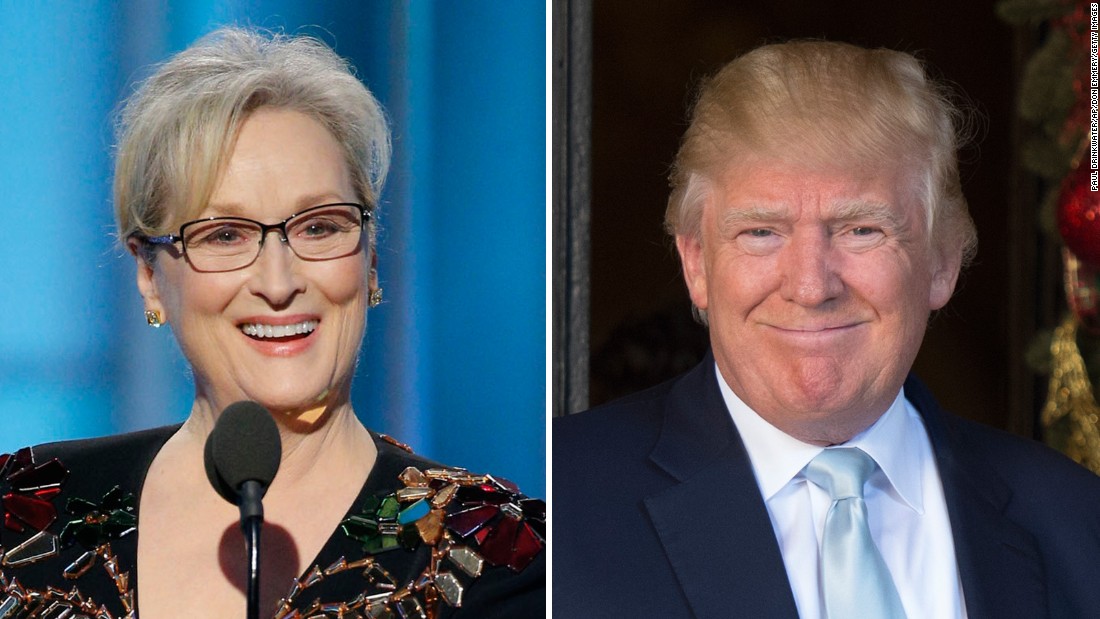 (CNN)Donald Trump's response to Meryl Streep's now-viral speech at the Golden Globes last night is precisely why her remarks are so paramount.
Trump's reaction — calling Streep a "Hillary lover," telling the
New York Times
he wasn't surprised that "liberal movie people" attacked him, and ultimately, the next day, going on a Twitter rampage
tweeting
that Streep was "one of the most overrated actresses in Hollywood" — revealed just how self-obsessed and out of touch with reality our President-elect is.
Calling Meryl Streep an "overrated" actress is like calling Aretha Franklin an overrated vocalist. Last week Trump was out to get
Arnold Schwarzenegger
, this week it's Streep. Yes, this is our new normal — and Trump isn't even president yet.
How audacious is it for anyone to criticize Meryl Streep, who has won acclaim for giving voice to characters ranging from Holocaust survivors to Margaret Thatcher, for speaking from her conscience?
I was grateful she used her fame, which she has done for years, to urge people to wake up (and to support a free and independent press while they're at it). But in Trump's America, anyone who has a critique of him is automatically overrated and untalented. What will happen when people who aren't as protected as Streep use their free speech over the next four years?
We are in a cultural war of ideology, a war in which no one wins. So-called opinions are being confused with oppression. Putting politics above
women's health
is not an opinion. A doctor refusing to treat someone
who is openly gay
is not an opinion. Potentially driving millions of people out of their communities because they match a Muslim or undocumented "profile" is not an opinion —
it's not even constitutional
.
This is what you call oppression. This is America's potential future. We will all be affected — Democrat, Republican or Independent.
Ironically, the 2016 election could be a plot for a Golden Globe-nominated movie in and of itself: bombshells caught on tape, appearances by former mistresses and hacking by international enemies. I am sure Danny Strong, who wrote HBO's "Game Change," about the 2008 election, is writing the first draft of the screenplay in his head already.
But this is not a movie. January 20 marks the beginning of Trump's America. The road ahead will be arduous. Not even a great screenwriter could predict the possible twists and turns of the next four years.
That said, if there is one line from
Streep's speech
that I hope Trump will not reject, it is her call for "the responsibility of the act of empathy." Without empathy, Trump's America could be the most repressive, dangerous and unstable we've seen in modern times.
But I hope I'm proven wrong about that. As the Trump presidency approaches, I am still hoping for a happy, Hollywood ending.
Read more: http://edition.cnn.com/