sports
USC, UC Davis ride second-half rallies to First Four wins in NCAA tournament
By
|
USC, UC Davis use second-half rallies to win First Four games in early NCAA tournament play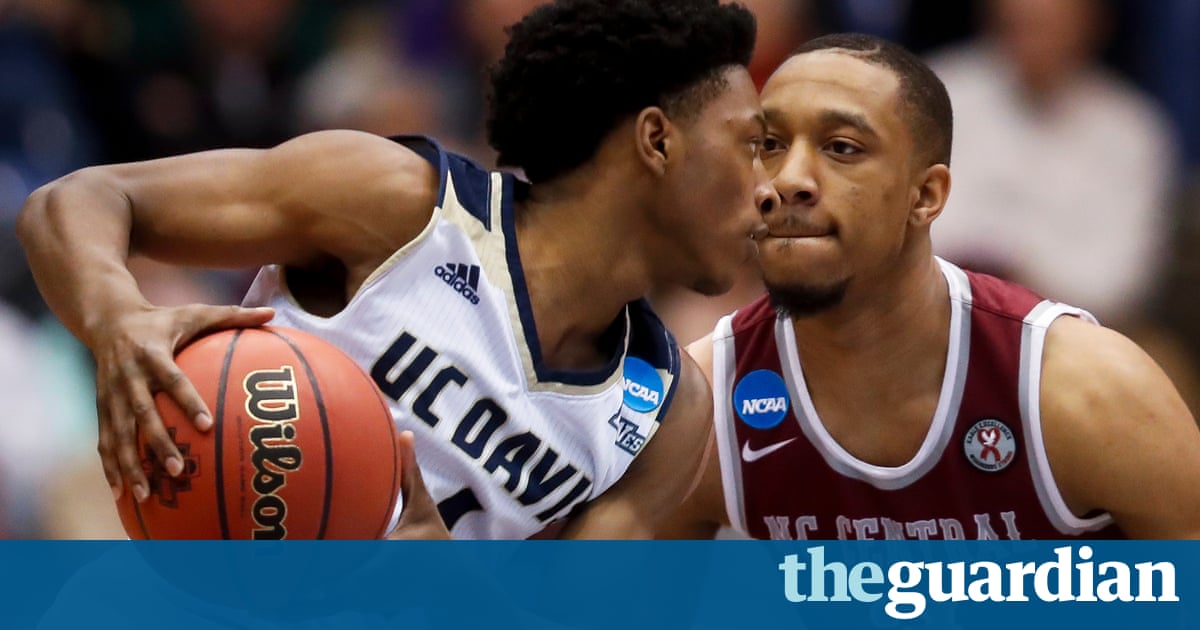 UC Davis overcame 18 turnovers and rallied in the second half to win its first ever NCAA tournament game, beating a North Carolina Central team whose poor shooting ensured it would be one-and-done.
Chima Moneke had 18 points and 12 rebounds as 16th-seeded UC Davis (25-9) won 67-63 in a First Four game on Wednesday night to earn a trip to Tulsa to play No1 seed Kansas on Friday.
I feel like Im a confident player, and I got it going early, Moneke said. And I like the matchup that I had. And you know, my teammates were doing a great job of moving the ball, and I felt that if we continued to do that, I would put us in a successful position to score most of the time.
Down by three points at halftime, the Aggies went on an 11-2 run to start the second half, and led by as many as nine before streaky North Carolina Central (25-9) forced some turnovers and chipped away at the lead.
The Eagles pulled within 64-63 with 1:49 left in the game on a 3-pointer by Dajuan Graf. They got the ball back with 37 seconds left, but another three-point try by Graf was off the mark. Graf had to foul Lawrence White, who made two free throws with 16 seconds remaining to give the Eagles some breathing room. Brynton Lemar hit a foul shot with four seconds left to put it away.
We had guys, mentally they just werent there, North Carolina Central coach LeVelle Moton said. And they got in their feelings and their emotions a little bit, and they busted us in the mouth. And I think we gathered ourselves and obviously we made the switch to the 1-3-1 and caused some turnovers and got us back in.
Lemar scored 15 points and White added 14 for UC Davis, which had earned a trip to the tournament by winning the Big West Conference Tournament.
UC Davis came out and grabbed momentum on two rim-rattling dunks by Moneke and led by as many as nine points in the first half before N.C. Central could get its feet. The Eagles stormed back with a 16-3 run and led 34-31 at halftime, thanks in part to nine UC Davis turnovers.
UC Davis had an 11-2 run in the second half, and North Carolina Central was just 1 of 9 from the field during that stretch.
Our guys grew up as little hoopers dreaming about playing and having this opportunity, UC Davis coach Jim Les said. And so its special to be here. And were just going to continue to fight, to keep this story going.
No11 USC 75, No11 Providence 71
Bennie Boatwright scored a career-high 24 points as Southern Cal rallied from a 17-point deficit in the second half to beat Providence 75-71 in a First Four game Wednesday night.
The comeback victory was revenge for the Trojans, who lost to Providence by one point in the opening round of the NCAA tournament last year. They move on to play sixth-seeded SMU at Tulsa, Oklahoma, on Friday.
After Providence led by 15 points at halftime and went up by 17 to start the second half, Southern Cal (25-9) mounted a furious rally. The Trojans closed it to five points at the 10-minute mark, and went up 61-60 on a jumper by Chimezie Metu off a turnover with 6:46 left.
Metu hit both ends of a 1-and-1 to put Southern Cal up 71-64 with 1:23 remaining and kept Providence from getting back into it down the stretch.
Jordan McLaughlin scored 18 points for Southern Cal, and Metu added 15 on 9-for-12 free throw shooting.
Emmitt Holt led Providence with 18 points and 11 rebounds. Jalen Lindsey and Rodney Bullock added 17 each.
Read more: http://www.theguardian.com/us