movies
Washington mall shooting: suspected gunman in custody, police say
By
|
Washington state patrol say suspect in shooting deaths of five people at Cascade Mall in Burlington has been detained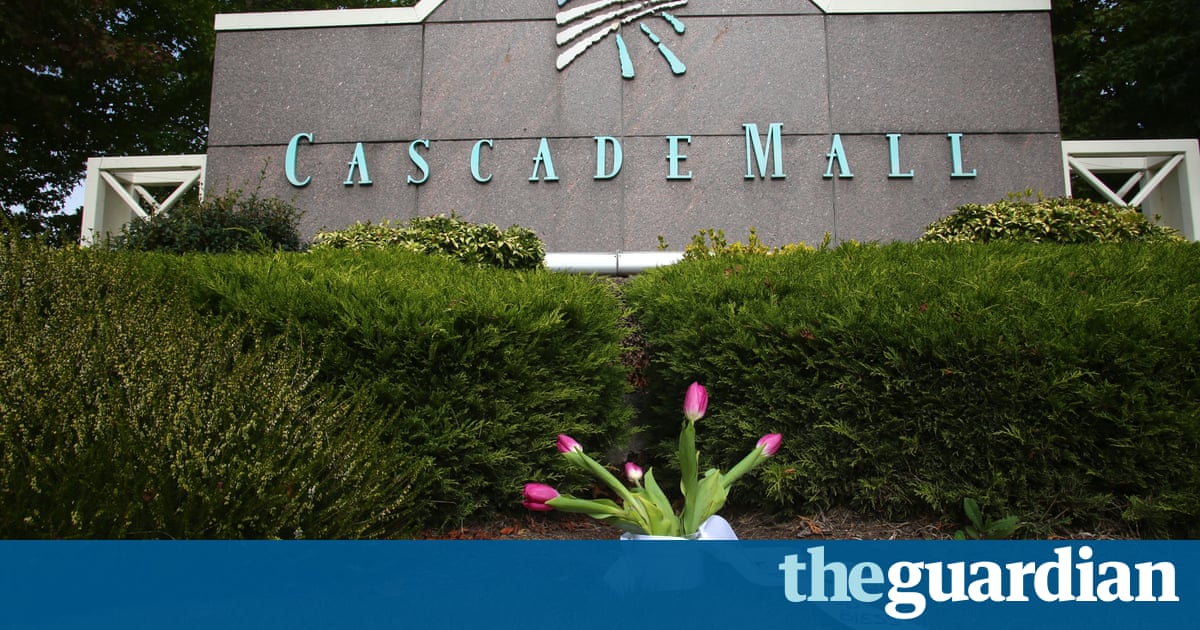 The suspect in a shooting at a Washington state mall that left five dead is in custody, authorities have said.
The alleged gunman was captured by authorities on Saturday, said Sergeant Mark Francis on Twitter, a move confirmed by the Skagit County Department of Emergency Management.
No other details were immediately available. A news conference was set for Saturday night.
A gunman opened fire at the Cascade Mall in Burlington, Washington, on Friday night, killing four females and a male before fleeing. Law enforcement staged a massive search over more than 20 hours for the suspect, initially described by witnesses as a young Hispanic male wearing black.
The first 911 call came in just before 7 pm at the Cascade mall: a man with a rifle was shooting at people in the Macys department store.
When police arrived moments later, the carnage at the Macys makeup counter was complete. Four people were dead and the shooter was gone, last seen walking toward Interstate 5. A fifth victim, a man, died early on Saturday as police finished sweeping the building, which measures 434,000 square feet (40,300 sq meters).
Burlingtons mayor, Steve Sexton, said on Saturday: There are people waking up this morning, and their world has changed forever. The city of Burlington has probably changed forever, but I dont think our way of life needs to change.
This was a senseless act. It was the world knocking on our doorstep, and it came into our little community.
As the small city absorbed the tragic news, critical questions remained, including the identity of the shooter and his motive. The FBI said terrorism was not suspected.
Surveillance video captured the suspect entering the mall unarmed and then recorded him about 10 minutes later entering the Macys with a hunting type rifle in his hand, Mount Vernon police Lieutenant Chris Cammock said.
Authorities did not say how the suspect might have obtained the weapon whether he retrieved it from outside or picked it up in the mall but they believe he acted alone. The weapon was recovered at the scene.
The identities of the victims four women who ranged in age from a teenager to a senior citizen were withheld pending autopsies and notification of family. The identity of the man who was fatally shot was also withheld and may not be released until Monday.
Probably one of the most difficult moments for us last night was knowing that there were family members wondering about their loved ones in there, Cammock said.
Residents gathered on Saturday to comfort each other at a community gathering in a city park.
Its too scary. Its too close to home, said Maria Elena Vasquez, who attended the gathering with her husband and two young children.
Joanne Burkholder, 19, of nearby Mount Vernon, was watching the movie The Magnificent Seven in the malls theater when security guards came in and told them to evacuate immediately. Dozens of panicked moviegoers gathered in the hallway, and Burkholder heard screaming as the officers escorted them to safety in a parking lot.
As she drove home later, she had to pull over because she was shaking so hard, she said.
Im just very thankful for my life this morning. Ive never been so terrified in my life, she said on Saturday, trying to hold back tears as she attended the community vigil.
Youd think it would happen in Everett or Seattle, but a small town of Burlington, Id never dream something like this would happen.
People who believed they may have lost loved ones were being sequestered at a church three blocks from the mall, where counselors and a golden retriever therapy dog were present.
Dozens of people attended a Saturday evening prayer service for the victims. The gathering was held at Central United Methodist church in nearby Sedro-Woolley, Washington.
The Rev. Cody Natland lit five candles on a table in front of the church, one for each victim.
The Cascade mall is an enclosed shopping mall that opened in 1990. It features JC Penney, TJ Maxx, and Macys stores, among other shops, restaurants and a movie theater.
Read more: https://www.theguardian.com/us-news/2016/sep/25/washington-mall-shooting-suspect-gunman-custody-police-say