entertainment
What Carrie Fisher and George Michael taught me about men, women and sexuality
By
|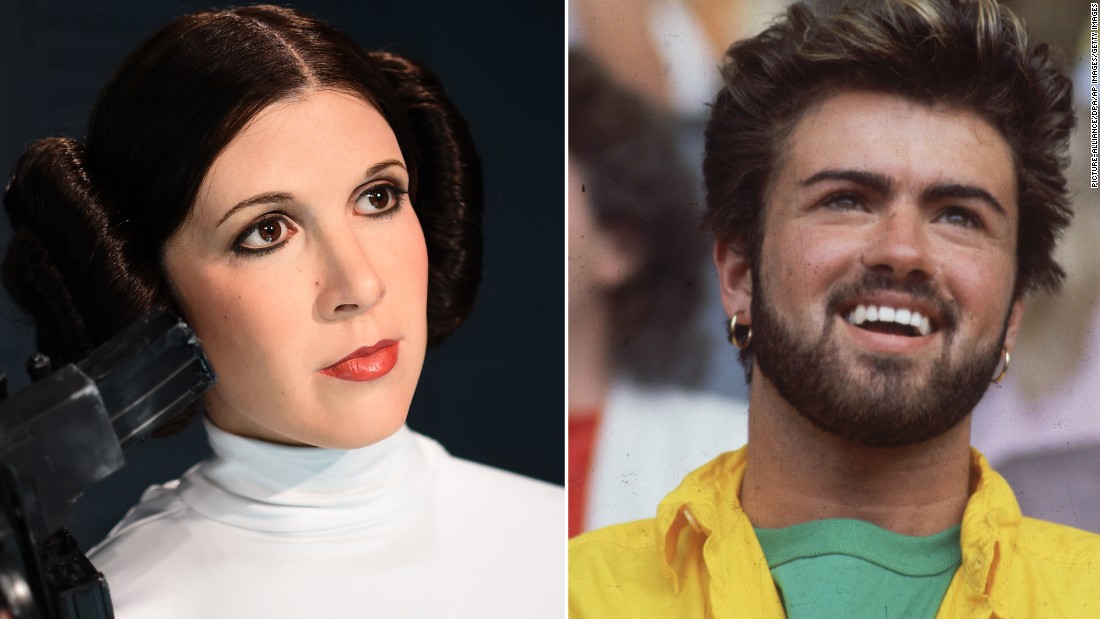 (CNN)Within the span of three days, two of the entertainment world's leading icons departed from this Earth. But George Michael and Carrie Fisher were more than iconic artists or iconic celebrities. They were icons of sexuality archetypes of late 20th-century sexuality who then defied and redefined those archetypes for the 21st century.
It was just three years after I had come out to my family and friends during high school, and I was packing up my dorm room in college. The news broke and I sat down on my bed as it all clicked into place. I understood the double life that he had been leading and the double meaning he represented for me. But also, suddenly, here was an icon perhaps one of the icons of male sexuality for my generation, coming out as gay. I felt validated and seen and included in the world at some deep level. I wasn't eternally to be left out of the steamy "Father Figure" video. I was as much a part of it, and all its subplots, as Michael himself had ever been. We were all just playing different roles in the ever-changing performance of sexuality.
Suddenly I realized that I could be just as sexy, just as attractive to those women in that video as Michael had been. It was a mind opener for me, just as it was undoubtedly for millions worldwide who suddenly learned that this paradigmatic ladies man was actually a man's man.
More recently, Fisher completed the full circle of feminist consciousness that Princess Leia had begun. Liberated from the confining costumes of decades ago, when she appeared in the latest Star Wars films Fisher was nonetheless judged for her body. The guys weren't. They aged and got a little pudgy around the middle. But men are allowed to age, just like men are allowed to wear underpants in outer space, I assume.
Throughout time immemorial, both on Earth and in galaxies far far away, it has always been the case that the rules that apply to women do not apply to men. And so Fisher faced an onslaught of age and body shaming as a woman that none of her male co-stars experienced.
Fisher's response was Jedi brilliance. She tweeted about how, duh, her body hadn't aged as well as her mind and then added a dismissive expletive that showed exactly how many damns she gave.
She added, "Youth and beauty are not accomplishments, they're the temporary happy byproducts of time and/or DNA." Neither, of course, have anything to do with talent but when have women been judged on talent alone? Especially in an industry such as Hollywood, known for its sexist standards against women, Fisher's speaking out was uncommonly bold.
And to the young actress Daisy Ridley who played Rey in The Force Awakens, Fisher offered advice that really seemed geared for every woman in the universe: "You should fight for your outfit," Fisher said but then, making clear she really was talking about more than clothes, she added, "Don't be a slave like I was."
Michael and Fisher were path-breaking artists who became path-breaking social icons, each in their own way challenging the archetypes they had once ridden to fame. They became and will eternally be vivid reminders of the power each of us has to shape and reshape our own sexual identity and expression as well as the world around us. Technically speaking, neither of them were Jedis but they helped liberate gender roles and sexuality for all of us.
Read more: http://www.cnn.com/2016/12/27/opinions/what-carrie-fisher-george-michael-taught-me-about-sexuality-kohn/index.html